Informed consent. It's your right. In Canada, it's the law. Since you're the one who ultimately has to bear the consequences of any medical intervention, it's your right to make an informed, free choice.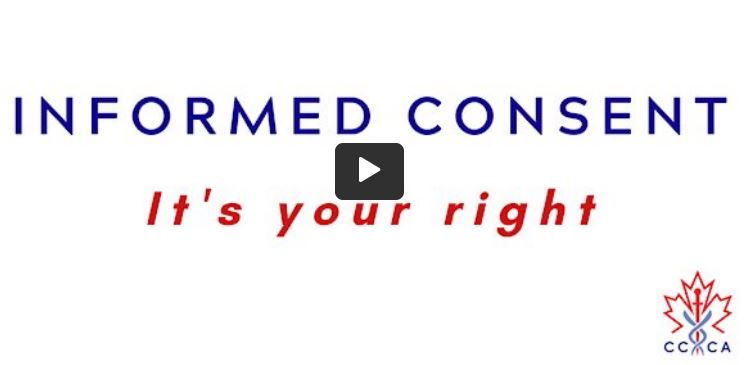 So when it comes to the COVID-19 vaccines, what should informed consent look like?
You should be informed of:
1) The nature of the treatment
2) The expected benefits of the treatment
3) The material risks of the treatment
4) The material side effects of the treatment
5) Alternative courses of action
6) The likely consequences of not having the treatment
If you weren't provided with this information, if your decision was made as a result of pressure, and if you didn't receive the vaccine protocol that you agreed to, then what you experienced was NOT informed consent.
Interview with Dr. Steven Pelech
COVID: The other side of the needle.
An alliance of Canadian doctors, scientists and health care providers reveal that Pfizer and Moderna COVID-19 vaccine trial data showed only a 1% reduction in participants' risk of getting the disease.
In a video released today, the Canadian Covid Care Alliance (CCCA) explains how health authorities may be misleading Canadians by claiming that COVID-19 vaccines can reduce your risk of illness by 95%.
"It all comes down to a calculation called Relative Risk Reduction", says Dr. Steven Pelech, Chair of the CCCA Scientific and Medical Advisory Committee.
"Relative Risk Reduction is a calculation that can be used to exaggerate the true measure of the vaccine's effectiveness," explained Dr. Pelech, who is also a professor in the Department of Medicine at the University of British Columbia.
"Canadians should instead be told about the Absolute Risk Reduction number, which is the gold standard for US FDA vaccine approval. For Canada's COVID-19 vaccines, the Absolute Risk Reduction according to the manufacturers' data is only 1%. This is critical to know before making an informed decision about these injections."
"Also critical to informed consent," Dr. Pelech reports, "is acknowledging that the efficacy of these COVID-19 vaccines is waning based on recent reports we're getting from Israel, Iceland and the US."
The CCCA is alerting Canadians that not knowing the true efficacy rate of the vaccines interferes with the ability to provide informed consent, at a time when governments, businesses and public institutions are mandating these vaccines for access to work, school, travel or to participate normally in society.
To make risk reduction calculations easier to understand, the CCCA has created a short video for Canadians to watch, before they consent to a COVID-19 vaccine.
The CCCA has created a free public-access website with independent research and information to help Canadians make informed decisions about prevention and treatments for COVID-19.
"We want Canadians to have access to the best available science on COVID-19 vaccines and treatments," said Dr. Pelech. "We're not currently seeing this provided by authorities in a balanced and transparent fashion. We are hoping this website will make a difference to our country at this critical moment."
Shared from:
https://www.facebook.com/thevalleyvoicenews/posts/1567991060216733
AND
www.CanadianCovidCareAlliance.org