Pierre Poilievre's National Campaign Co-Chairs
Pierre Poilievre's Website lists his National Campaign Co-Chairs. They are:

---
The first name that jumps out, is that of John Baird
John Baird has been identified as a WEF participant. More info can be found on this post.

---
From 2015: Former foreign affairs minister John Baird has another new job, this one advising Hong Kong billionaire, Richard Li [Founder, Chairman, and Chief Executive of Pacific Century Group (PCG) is an Asia-based private investment group established in 1993 with interests across three core business pillars – Technology, Media & Telecommunications (TMT), Financial Services and Property.], son of one of the wealthiest men in Asia. [Son of Li Ka-Shing]
Hong Kong delegation to attend World Economic Forum
The Secretary for Commerce, Industry and Technology, Mr Henry Tang, will head a delegation of Hong Kong business leaders and government officials to the World Economic Forum (WEF) annual meeting to be held in Davos, Switzerland from January 23 to 28. The Hong Kong delegation comprises: Mr Richard Li, Chairman & Chief Executive, PCCW Ltd; among others…
Mr. Baird will be based in Toronto and offer Mr. Li advice on international matters as the tycoon makes investments around the world. It is not a full-time job, but Mr. Baird is expected to spend as much as half his time on this new assignment.
Mr. Baird, who quit Stephen Harper's cabinet in February to build a post-political career, has picked up a number of blue-chip jobs in the past week. Barrick Gold Corp. hired him to sit on its international advisory board, and Canadian Pacific Railway Ltd. nominated him to serve as a director.
As part of his work for Mr. Li, the veteran Canadian politician will be expected to conduct risk assessments, including political analysis, to appraise business opportunities.
"They've known each other for many years," one source said of Mr. Baird and Mr. Li. The Hong Kong businessman, who has major interests in telecommunications and insurance, has "come to value John's friendship and his judgment."
Sources say Mr. Baird travelled to Hong Kong in recent weeks to finalize the job.
Mr. Li has Canadian citizenship, as does his father, 86-year-old business magnate Li Ka-shing, who controls Calgary-based Husky Energy and is well known in Vancouver for redeveloping waterfront land used for the 1986 World's Fair. The elder Mr. Li was also a long-time investor in Canadian Imperial Bank of Commerce, but sold his stake in 2005. (https://www.weforum.org/people/navdeep-bains)
Forbes Magazine pegs Richard Li's wealth at $4.6-billion (U.S.) and his father's at $33.7-billion (U.S.).
The younger Mr. Li made a big splash in Ottawa circles in 2006, when he gave $1-million to the National Arts Centre Foundation. The donation was announced at a gala in September of that year. Mr. Baird, an Ottawa-area politician who made the jump from provincial to federal politics earlier that year, accompanied Laureen Harper, wife of the Prime Minister Harper, to that event.
In 2007, Mr. Li joined forces with U.S. private equity firm Cerberus Capital and made a failed bid for communications giant BCE Inc.
It is believed Mr. Li and Mr. Baird met through the National Arts Centre. "It was the NAC connection," one source said.
Mr. Li has remained active with the federal arts institution, which Mr. Baird championed as the federal minister responsible for the Ottawa area.
He has also tried to build closer ties between China and Canada. In 2013, the NAC orchestra toured China and credited Mr. Li as a supporter of the trip.
It is not clear whether hiring Mr. Baird indicates Mr. Li wants to make new investments in Canada. Sources say he is being hired for international expertise, not his knowledge of Canada.
Mr. Baird spent two decades in politics, first in the Ontario legislature and as a minister in the Progressive Conservative government of Mike Harris. He shifted to federal politics and became one of Stephen Harper's most trusted ministers. He spent more than three-and-a-half years as foreign minister, his last portfolio.
According to Forbes Magazine, Mr. Li's wealth more than doubled between 2014 and 2015, after his father transferred FWD Life Insurance [JAKARTA, Indonesia, March 3, 2021 /PRNewswire/ — FWD Group ("FWD") today announced that it has completed its investment in a significant minority stake in PT Asuransi BRI Life ("BRI Life"), the life insurance arm of PT Bank Rakyat Indonesia (Persero) Tbk ("BRI"). As part of this investment, BRI Life has entered into a long-term life insurance distribution agreement with BRI]to him. The Li group bought ING's life insurance business in Hong Kong, Macau and Thailand for $2-billion (U.S.) [ING Group, a Netherlands-based banking and financial-services corporation, last year [2012] sold ING Life Insurance's operations in Thailand, Macau and Hong Kong to PCG.] [2019 Hong Kong-based FWD Group on Monday announced that it has completed the acquisition of a 49 per cent stake in HSBC Holdings' Asia Pacific insurance unit, HSBC Amanah Takaful (Malaysia) Bhd.]
Mr. Baird gained a reputation as a blunt-talking foreign minister, sometimes criticized for a black-and-white vision of the world. But former Australian prime minister Kevin Rudd called him a "pragmatic internationalist" earlier this year, and told The Canadian Press he wanted Mr. Baird's help reforming the United Nations World Health Organization because he was good at "practical problem-solving, rather than having a seminar on castles in the air."
The former foreign minister was more bullish on China than Mr. Harper, who is deeply skeptical of the country and its poor human rights record, and has alternated as Prime Minister between being a hawk who would not sell out to "the almighty dollar" and a pragmatist calling for deeper economic ties.
Mr. Baird was a stronger proponent of closer ties and richer trade with China. He travelled regularly to China and offered little public criticism of Beijing, saying he wanted to "re-balance" Ottawa's relationship with the Chinese government toward friendlier topics.
Source: https://www.theglobeandmail.com/news/politics/john-baird-lands-yet-another-job-as-adviser-to-hong-kong-billionaire/article23786325/
---
22 April 2015 | Hong Kong
FWD Group today announced the appointment of John Baird as a Non-Executive Director to the Board, effective 30 April 2015. John brings with him extensive experience in international affairs, having most recently been Canada's Minister of Foreign Affairs and previous to that President of the Treasury Board. [John's] credentials complement an already strong bench of FWD's existing Board members and experienced management team.
"We are pleased to welcome John to FWD's Board," said the Hon. Ronald Arculli, Chairman of FWD Group [.. and Senior Partner of King & Wood Mallesons in Hong Kong. He was the former Chairman of Hong Kong Exchanges and Clearing Limited (2006-2012)]. "As we build a world-class Asia-focused insurance business, the insight and experience of a globally diverse board is vital. John is an extremely strong addition with his depth of experience in international relations and building partnerships, combined with his solid expertise in the public sector, understanding and addressing public expectations."
"I am very excited for the opportunity to work with the FWD team," John added. "FWD is a dynamic insurer in the Asian market that aims to further support industry growth through delivering enhanced customer experiences and innovative customer-led propositions. I look forward to helping FWD extend its role as a leading pan-Asian insurer." [FWD offers Covid Insurance!!]
FWD Group on The Stock Exchange of Hong Kong Limited ("HKEx"). September 2022 (search it for: Baird)
https://www.fwd.com/newsroom/press-releases/fwd-group-announces-appointment-of-john-baird-as-non-executive-director/
---
Ministers to Represent Canada at World Economic Forum
News Release
Ministers to promote Canada's world-class exports, attract job-creating investments and highlight Canada's global leadership during annual meeting
January 20, 2015 – Ottawa, Ontario – Foreign Affairs, Trade and Development Canada
The Honourable Ed Fast, Minister of International Trade, Foreign Affairs Minister John Baird, the Honourable Christian Paradis, Minister of International Development and La Francophonie, the Honourable Joe Oliver, Minister of Finance, and Industry Minister James Moore [Senior Advisory at the global firm Edelman] will attend the upcoming World Economic Forum (WEF) annual meeting from January 21 to 24 in Davos, Switzerland.
The ministers will hold bilateral meetings with key international counterparts, as well as with business and civil society leaders, to promote Canada's leadership on the economy and in promoting global peace and security. The ministers will also lead several sessions related to this year's WEF's theme: The New Global Context.
Minister Fast will focus on promoting the Canada-European Union Comprehensive Economic and Trade Agreement. This historic agreement opens new markets and opportunities for Canadian companies and positions Canada as one of the only countries with preferential access to the world's largest markets—the United States and Europe. Minister Fast will also participate in a World Trade Organization meeting on the margins of the Forum. Prior to attending the WEF, Minister Fast will lead a trade mission to Italy, where he will build on the Canada-Italy partnership.
Minister Baird's participation provides an opportunity to raise awareness of Canada's leadership role on the world stage in fighting for freedom and security around the globe; engage with key counterparts to address and find solutions to global challenges; and demonstrate Canada's leadership on other priority files, including efforts to fight child, early and forced marriage. …….
READ more here https://www.canada.ca/en/news/archive/2015/01/ministers-represent-canada-world-economic-forum.html
More https://www.thestar.com/news/canada/2015/02/01/john-baird-touted-by-ex-australian-pm-to-help-reform-who.html
Some Participants at the 2015 WEF meeting in Davos
The year attended by Baird
The annual meetings of the World Economic Forum (WEF) in Davos, Switzerland, bring together thousands of the world's top corporate executives, bankers and financiers with leading heads of state, finance and trade ministers, central bankers and policymakers from dozens of the world's largest economies; the heads of all major international organizations including the IMF, World Bank, World Trade Organization, Bank for International Settlements, UN, OECD and others, as well as hundreds of academics, economists, political scientists, journalists, cultural elites and occasional celebrities.
READ the entire article
More Announcements from 2015 in connection with WEF
Canada [means taxpayers give money to …] also provides funding to HarvestPlus, a global research program that works to reduce micronutrient malnutrition by breeding key crops (for example, potatoes, beans, rice, wheat, maize, cassava) to produce varieties with higher nutritional value. Through this research program, private sector partnerships are built to scale up seed systems for biofortified crops. For example, in India, it is piloting a collaboration with private seed companies that tests new varieties, evaluates farmer preferences, assesses their market potential and directly markets seeds.
Canada [means taxpayers give money to… ] supports the Zinc Alliance for Child Health, an innovative public–private–civil society partnership between Teck Resources, a Canadian private sector company, and the Micronutrient Initiative, a global leader in nutrition. Presently underway in four sub-Saharan African countries, the alliance aims to improve child survival by delivering zinc supplements and oral rehydration salts to treat diarrhea, one of the most common killers of children in developing countries.
https://www.canada.ca/en/news/archive/2015/01/canada-joins-wef-as-founding-partner-global-challenge-food-security-agriculture.html
https://www.canada.ca/en/news/archive/2013/07/canada-strengthens-partnership-asean.html
2014 Davos
"Among others, Canadian Foreign Minister, The Honourable John Baird, welcomed the Commission as "timely and important," and underscored its relevance a few days later when he spoke in a major panel discussion on cyberwarfare and the potential to use the Internet as a tool for democracy promotion."
---
Mr. Baird was appointed as Non-Executive Director of PineBridge Investments' Board in 2015
Currently: Mr. Baird was appointed as Non-Executive Director of PineBridge [that wef link is dead, but here is the document] Investments' Board in 2015. [A Subsidiary of [Founder, Chairman, and Chief Executive Richard Li's Pacific Century Group (PCG) ] Previously, he was Minister of Foreign Affairs of Canada from May 2011 through January 2015. In his role as Minister of Foreign Affairs, he served as a key driver for foreign policy engagement, where he supported building cross-border partnerships, provided development assistance and strengthened trade and economic engagement for Canada.
He also served in a number of other positions within Prime Minister Stephen Harper's federal cabinet, including President of the Treasury Board, Minister of Environment and Minister of Transport, Infrastructure and Communities. He was first elected to the House of Commons in 2006, and re-elected in 2008 and 2011. Mr. Baird holds a Bachelor of Arts degree in political studies from Queen's University at Kingston.
PineBridge, a private, global asset management company – is majority-owned by a subsidiary of Pacific Century Group (PCG), an Asia-based private investment group.
2022-05-12 – PineBridge Investments, L.P. has filed a 13F-HR form disclosing ownership of 4,432 shares of BlackRock, Inc. (US:BLK) with total holdings valued at $3,387,000 USD as of 2022-03-31. PineBridge Investments, L.P. had filed a previous 13F-HR on 2022-02-10 disclosing 441 shares of BlackRock, Inc. at a value of $404,000 USD. This represents a change in shares of 904.99 percent and a change in value of 738.37 percent during the quarter.
https://fintel.io/so/us/blk/pinebridge-investments
Who's Behind the Silk Road Finance Corporation?
The chairman of the board of the Silk Road Finance Corporation is John L. Thornton, executive chairman of the above-named Barrick Gold Corporation, a member of the board of Ford Motor Company, non-executive chairman of Pinebridge Investments.

---
Hon. John R. Baird P.C. Senior Business Advisor Bennett Jones LLP
John Baird is a Senior Advisor at Bennett Jones LLP and a former Senior Cabinet Minister in the Government of Canada.
An instrumental figure in bilateral trade and investment relationships, Mr. Baird has played a leading role in the Canada-China dialogue and worked to build ties with ASEAN countries. In addition, Mr. Baird has worked closely with international leaders to strengthen security and economic ties with the United States and Middle Eastern countries.
A native of Ottawa, Baird spent three terms as a Member of Parliament and four years as Foreign Minister. He also served as President of the Treasury Board, Minister of the Environment, Minister of Transport and Infrastructure, and Leader of the Government in the House of Commons. In 2010, he was selected by Members of Parliament from all parties as Parliamentarian of the Year.
In addition to his work with Bennett Jones, Mr. Baird sits on the advisory board of Barrick Gold Corp., the corporate boards of Canadian Pacific, Canfor Corporation (as Chair), Osisko Gold Royalties, the FWD Group and PineBridge Investments. He also serves as a Senior Advisor at Eurasia Group, a global political risk consultancy.
[Other investors with positions similar to BlackRock Inc. include Vanguard Group Inc , First Eagle Investment Management, LLC , Flossbach Von Storch Ag , Capital World Investors , FIL Ltd , and Royal Bank Of Canada .] RBC
https://finance.yahoo.com/news/barrick-names-blackrock-exec-head-154043321.html
Shared from https://www.bennettjones.com/BairdJohnR
---
In addition to his work with Eurasia Group, John is a senior business advisor at Bennett Jones LLP and sits on the advisory board of Barrick Gold Corp. and the corporate boards of CP Rail, FWD Group, and PineBridge Investments. He is also a global strategic advisor to Hatch Ltd, a Canadian global multidisciplinary management, engineering, and development consultancy.
Remember Kevin Rudd, and his recommendation above regarding John Baird? Seems they've been working together for sometime. https://www.eurasiagroup.net/people/KRudd : He has co-chaired the World Economic Forum's Global Agenda Council on Fragile States and currently co-chairs the WEF Council on the Chinese Economy.
https://www.eurasiagroup.net/media/the-new-reality-world-economic-forum-report-describe-new-world-order
---
John Baird Board Member: Centre for Israel and Jewish Affairs (CIJA)
February 23, 2018
Ottawa—The Centre for Israel and Jewish Affairs (CIJA) has confirmed the appointment of ten new members to its Board of Directors. Nominations to the CIJA Board are guided by an independent process whereby the Nominations Committee assesses the background, specific skills, experience, and other relevant qualifications of prospective Directors and submits a list of candidates to the CIJA membership for consideration. CIJA benefits immensely from the knowledge, experience, and passion of its Board members.
More information about incoming board members:
HON. JOHN BAIRD (ON) served as Canada's Minister of Foreign Affairs from 2011 to 2015 and as a member of the federal cabinet, in various positions, since 2006. Previously he was a provincial cabinet minister in Ontario during the Conservative governments of Premiers Mike Harris and Ernie Eves.
Office of the Commissioner of Lobbying of Canada: Lobbying: The Centre for Israel and Jewish Affairs (CIJA) Digital Citizen Contribution Program (DCCP): The objective of the project is to combat online disinformation and hate, specifically, antisemitism and antisemitic conspiracy theories related to COVID-19 where it is spreading: online via social media. Antisemitism cannot be allowed to permeate civil discourse and become mainstream. Activities include: Read More
Other research site
https://thecanadianreport.ca/pierre-poilievre-and-john-baird-connections-to-the-wef-world-economic-forum/
---
Hatch Ltd. Appoints John Baird as Global Strategic Advisor
Hatch is presenting at Business Opportunities Within Smart Cities held at the Fairfax County Economic Development Authority – Conference Center, Tysons, Virginia, United States
"Hatch is a great Canadian success story and I'm proud to take that story to their global clientele," said Baird. "We share the same values and priorities and I look forward to help expanding this successful Canadian business further abroad."
Welekazi Cele: Regional Director, Iron Ore. Was asked: What do you think are the toughest challenges facing your clients?
"The World Economic Forum suggests seven trends will shape the future of the mining and metals industry including the transition to a low-carbon economy, depletion of high-grade resources in low-risk areas, and developing new ways to finance mining to limit risk, but we're ready! With 9,000 employees across the world, we have exceptional, diverse teams of engineers and business professionals to collaborate and partner with clients to tackle these challenges."
---
2019 Speakers' Spotlight
Three Questions with Former Minister of Foreign Affairs John Baird
A large percentage of Canada's economy is resource-based. How do you see this being impacted as Canada responds to global climate change?
When government leaders present climate change as a moral issue, voters respond. When it is presented as an economic issue they start to respond negatively. A backlash against political correctness is also growing in Canada. This will be a central part of the upcoming federal election.
It's been a turbulent year for trade relations, and Canadian consumers are starting to feel the ripple effects of it. Based on today's trade landscape, what can we expect to see one year from now?
I am quite optimistic on the trade front for Canada. The re-negotiation of NAFTA, elimination of the steel and aluminium tariffs, and the coming into force of CETA and the TPP are good news. Growing protectionism in the US and the trade war with China are a huge risk to global economic growth. This could hurt economic growth in Canada and could even lead to a recession.
Shared from: https://www.speakers.ca/2019/06/three-questions-with-former-minister-of-foreign-affairs-john-baird/
This Concludes Research On John Baird
---
---
The second name that raises questions is Tim Uppal
While Mr. Uppal does not have the same notoriety with the World Economic Forum as his colleague, and does not appear to have a bio posted, he does appear on a list of attendees at a World Economic Forum Meeting. He attended the "World Economic Forum on India" in April 2013, while he held the position of Minister of State for Democratic Reform of Canada.
Mr. Uppal currently holds office as the Conservative MP for Edmonton Mill Woods. It is worth noting that Mr. Uppal held the position of Shadow Cabinet Minister for Treasury Board from November 2019 – September 2020.

Document in full here
Tim Uppal was a member of the Canadian government at the time he attended the "World Economic Forum on India" in April 2013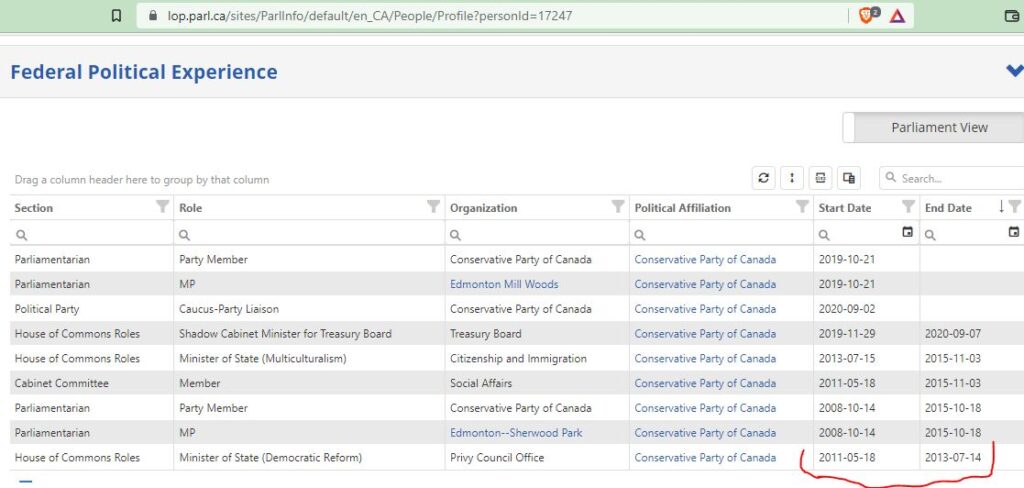 ---
Uppal Has Also Denied Allegations He Was Involved With a Voting Kiosk Set Up In Edmonton
One insider alleged to CBC News that he phoned members to obtain personal identification numbers (PINs) needed to vote online or by phone, then passed them to Tim Uppal, a former Conservative MP and current federal candidate who played a key role on Kenney's leadership campaign. The volunteer says Uppal shared the PINs with other volunteers, who used them to cast votes for Kenney — a violation of party rules for the three-day vote.
The insider's account is part of a larger story about allegations of wrongdoing by the team behind Alberta's premier that one long-time conservative operative says is the focus of an ongoing RCMP investigation and which one expert says undermines the credibility of Canada's democratic system.

"I am prepared to cooperate in the investigation," the sitting MLA states in his letter detailing what he describes as an elaborate "identity fraud" scheme.
"Possibly thousands of individuals were impacted."
Dated February 11 and addressed to RCMP Deputy Commissioner Curtis Zablocki, Alberta's top mountie, Gill's letter alleges that "fraudulent" e-mails were used to cast "thousands" of fake votes during the 2017 UCP leadership race.
---
Conservative Candidate Tim Uppal Would Not Provide Answers to Mill Woods Mosaic Questionnaire
The Mill Woods Mosaic published the questionnaire, leaving blank space where Uppal's answers should have been.
"It was really a difficult decision because I don't want to embarrass anybody. I want to be fair," publisher and editor Arnim Joop said in an interview with CBC News.
"But in this case, he is basically the main opponent for [Liberal candidate and incumbent] Amarjeet Sohi and I really wanted to include him."
Joop posed the same seven questions to the four main candidates running in Edmonton Mill Woods. They ranged from the reason they're running to how will they convince people who mistrust politicians to vote.
Sohi, Nigel Logan of the NDP and Green Party candidate Tanya Herbert responded by Joop's deadline of Oct. 4. Uppal did not.
When Joop published the four questionnaires in the Oct. 15 issue of the paper, he left blank spaces to represent Uppal's non-answers to his survey.
Controversies
Joop said he sent his first request to the four candidates on Sept. 27. When he followed up two days later, Uppal's campaign manager Doug Zieber promised to review the questions.
Zieber told Joop on Oct. 4 that Uppal would not respond. Three days later, Joop contacted Zieber with an offer to extend the deadline. That's when Zieber said Uppal didn't have the time, Joop said.
When CBC contacted Uppal for comment, the party emailed a written statement on his behalf.
"Over the course of the election I have taken part in dozens of election surveys, interviews, and on-air debates. I have made myself available to the media on a number of different topics and occasions," Uppal wrote.
"With that said, my main priority is and will always be talking to the people of Edmonton Mill Woods. I communicated this to the outlet, informed them that I was unable to partake in their election survey, and thanked them for the work they do for the community."
Joop isn't buying it. He said campaign workers often help candidates answer surveys and noted Uppal participated in a similar questionnaire during the 2015 federal election.
"I regard myself as the community newspaper for Mill Woods and he doesn't have time?" Joop said. "So I thought that was like a pretty lousy excuse."
Uppal has faced a couple of controversies during the campaign.
Research On Tim Uppal Is Continuing. Visit Tomorrow For Update
---
---
The Third Name That Raises Questions Is Leo Housakos
From our preliminary searches, Quebec Senator Leo Housakos does not appear to have any direct affiliations with the World Economic Forum. He does, however, have direct involvement in creating Digital ID's for Canadians; which is a major component of the WEF strategy. Canada had a first taste of the power afforded by Digital ID's with the recent implementation of Vaccine Passports.
A Senate document dated June 16, 2010, states:
NEWS RELEASE
Senate Committee on Transport and Communications tables its report on the wireless sector. For Immediate release:

Ottawa, June 16, 2010 – The Standing Senate Committee on Transport and Communications tabled its report Plan for a Digital Canada.ca today. The committee began its study in March 2009 with a main focus on the wireless sector in Canada. However, because of the fast pace of change in the industry, the study evolved from one with a narrow focus on Canada's wireless sector to one with the broader focus on a digital society.

The report and its recommendations reflect the committee's optimism that the promised digital economy strategy, now at the consultations stage, can be adapted into a strategy for a broader and inclusive digital society. The government should avoid the international game of setting faster and faster broadband speeds, and instead set a goal in terms of being able to provide basic and essential digital services to all Canadians. Canada can transform itself into an inclusive digital society that allows Canadians to reap the benefits of advances in technology without creating new digital divides.

Canada has a long history of accomplishments in telecommunications, from the invention of the telephone to being the first country in the world to connect all its schools to the Internet. For some, these accomplishments are in the past, and one witness suggested, "… that the Canadian telecommunications scene is in a state of crisis."

"The members of this committee have discussed national digital strategies with officials from several countries and have recommendations for transforming Canada into a digital society. We want to bring Canada into the modern age." said Senator Dennis Dawson, chair of the committee.

Senator Leo Housakos, deputy chair of the committee stated that "we need a multi-targeted policy approach to prepare the way for a digital society. We need a principal of true universality to avoid the creation of 'information haves' and 'information have-nots'."

The report contains 18 recommendations and can be found by clicking here
While this summary seems rather innocuous on the surface, the report referred to in the last paragraph is far more interesting.
Report in full:
The report was issued by The Standing Senate Committee on Transport and Communications, dated June 2010. It was authored by The Honourable Dennis Dawson, Chair and The Honourable Leo Housakos, Deputy Chair. The following are notable highlights from the document.
Page 22: Lessons from Estonia
"This committee is not suggesting that Estonia is a digital or economic utopia. But Estonia does provide the best available example of how to use digital technology to transform a society.
…
Estonia began implementing its program a dozen years before Canada launched consultations on a digital economy strategy. During this twelve year period, Estonia introduced paperless cabinet meetings, e-voting, digital ID's, online and secure citizen access to government files."
Page 24: Meeting with Estonian-Canadian Parliamentary Group
After meeting with the President [Speaker] of the Parliament of Estonia the committee discussed e-government with several Estonian MP's…. The MP's focussed on digital ID's and e-voting."
Page 60: Recommendation 1
"Canada should present a strategy for an inclusive digital society."
Page 61: Recommendation 11
"That the government examine the possible necessity of having digital ID's to have a viable, comprehensive and secure digital society."
Research On Leo Housakos Is Continuing. Visit Tomorrow For Update
---
---
Research on Gail Shea
Gail Shea has a long career in politics, starting in the early 2000's with the Conservative Party of Canada. She was a representative in PEI before running for a federal seat. She held the positions of Federal Minister of Fisheries and Oceans in 2015 and Federal Minister of National Revenue from 2011-2013.
At this time, we have found no evidence to suggest that Ms. Shea is involved with the WEF.
Research On Gail Shea Is Continuing. Visit Tomorrow For Update
---
---
If Mr. Poilievre is dead set against the WEF as he claims, his choices for Campaign Co-Chairs with direct ties to the WEF and/or WEF agenda are curious at best. If he is part of the WEF and is working to usher in their policies, two of his choices for Campaign Co-Chairs are very well positioned and qualified to make it happen.
Update – May 17, 2022
It was brought to our attention by one of our readers that Pierre Poilievre was an Associate Member of the Standing Committee on Environment and Sustainable Development. This carries significance as the World Economic Forum (WEF) signed a partnership agreement with the United Nations (UN) to bring forward the WEF 2030 Vision and the UN 2030 Goals for Sustainable Development, to which Canada signed on in September 2015.
Once again, one must ask why Mr. Poilievre would actively participate in the WEF/UN agenda
if he is, in fact, dead set against it?
Update – May 30, 2022
Poilievre boldly states he will invoke the Charter's Notwithstanding Clause
On May 27, 2022, Poilievre took to twitter to make a statement on a Supreme Court of Canada ruling.
The full ruling may be read here.
"Section 745.51 of the Criminal Code violates section 12 of Charter and is therefore unconstitutional.
Writing for a unanimous Supreme Court, Chief Justice Richard Wagner said section 745.51 of the Criminal Code violates section 12 of the Canadian Charter of Rights and Freedoms in a way that cannot be justified in a free and democratic society. Section 12 of the Charter guarantees the right not to be subjected to cruel and unusual punishment. Its purpose is to protect human dignity and ensure respect for the inherent worth of each individual.
In a case of multiple murders, section 745.51 of the Criminal Code allows a court to impose imprisonment on the offender without a possibility of parole for a period of 50, 75, 100 or even 150 years. This provision "authorizes a court to order an offender to serve an ineligibility period that exceeds the life expectancy of any human being, a sentence so absurd that it would bring the administration of justice into disrepute", the Chief Justice wrote.
A life sentence without a realistic possibility of parole presupposes the offender is beyond redemption and cannot be rehabilitated. This is degrading in nature and incompatible with human dignity. It amounts to cruel and unusual punishment. "By depriving offenders in advance of any possibility of reintegration into society, section 745.51 shakes the very foundations of Canadian criminal law", the Chief Justice said.
In light of this conclusion, the Chief Justice declared section 745.51 invalid from the time it was enacted in 2011. As a result, the law that existed before that date continues to apply. This means the offender must serve a life sentence without eligibility for parole for a total of 25 years."
There is strong argument to say that the notwithstanding clause should never have been part of the Charter, and in fact it was a heated discussion when the Charter was created. Use of this clause should be for the most extreme circumstances that cannot be dealt with under current laws. We have seen politicians show great disrespect for the magnitude of this action such as when New Brunswick MLA, Dominic Cardy, initially had it as part of Bill 11; a Bill that would have made an unlimited list of vaccinations a requirement of school entry with only limited and unidentified medical exemptions. Fortunately that Bill failed to pass, even with the notwithstanding clause removed.
Poilievre's threat to use the notwithstanding clause because he simply did not like a constitutional ruling of the court is extremely concerning. That would be the act of a dictator, not a leader. We have laws and processes if he wishes to address his concerns with this ruling and as a member of parliament he has the option to introduce legislation. The fact that he would use such arbitrary force to address his personal feelings, severely questions his dedication to the parliamentary and democratic processes.
Update: May 31, 2022
Poilievre does not vote on Motion to end travel mandates
MP Melissa Lantsman brought forward a motion to end travel restrictions, that went to vote on May 30, 2022. The Motion was defeated with a vote of 112 Yea to 201 Nay. Interesting, Poilievre did not vote.
At 9:37 pm, over nine hours after the vote took place, Poilievre provided the following explanation.
If he was aware that he had a technical issue while voting on one of the most egregious violations of Charter Rights in Canadian history, why would he not address it immediately?
Shared from this website, they do regular updates, so visit them often for more information:
https://www.beyondthenarrative.ca/poilievre-and-the-wef/
Review this page for more information: https://peoplesworldwar.com/poilievre-failed-to-vote-to-remove-mandates/