FCC builds strong relationships and shares knowledge and expertise with thousands of customers across the country. (Read more below The Charlie Kirk Show)
Operational Carbon Footprint
FCC has been measuring its operational carbon footprint for several years. Our current 2025 target, set in 2017-18, is to reduce FCC greenhouse gas emissions by 40% (established from a 2012 baseline). By reducing emissions by 307 tonnes of CO2e every year from 2017 to 2025, we're on track to meet this target.
We recognize that climate change and transitioning to a lower emissions economy will bring opportunities and risks to the Canadian agriculture and food industry. As a first step, we've released our first set of Climate-Related Disclosures based on the Task Force on Climate-Related Financial Disclosure (TCFD) standard. The disclosure shares information about the current state and future steps to ensure FCC effectively manages climate risk for our operations and customers and identifies opportunities to support customers on their sustainability journey.
We welcome your questions and feedback on FCC's approach at esg@fcc.ca.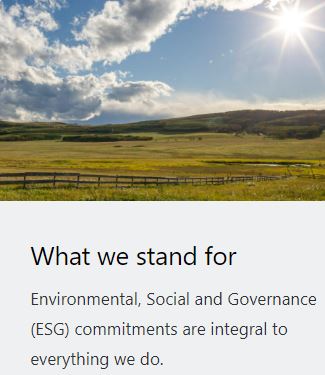 Environmental, Social and Governance
What we stand for
At FCC, our Environmental, Social and Governance (ESG) commitments are integral to what we do. They guide how we operate, hold us accountable and help us support customers on their sustainability journeys. We aim to be a catalyst for good and serve the agriculture and food industry, our communities and the planet for generations to come.
---
Our commitments
Environmental
We operate sustainably and support customers to do the same. We care about the environmental issues affecting our industry and planet.
Learn more about environmental commitments
---
Social
We foster a healthy and inclusive society. We strive for equitable practices that support our employees, industry and communities.
Learn more about social commitments
---
Governance
We operate responsibly and with integrity. We hold each other to the highest ethical standards and expect honesty and accountability.
Learn more about governance commitments
---
Reporting and Documents
Explore disclosures and materials related to ESG. Find reports
Message from FCC Leadership
Learn why ESG is an integral piece of everything we do. View message
ESG Stories
See our commitment to ESG in action. Explore content
---
Shared from https://www.fcc-fac.ca/en/about-fcc/esg/environmental.html
.