Bruce Banman, if he can't read a passage from a sexually explicit book being made available by Abbotsford School District to sixth graders on the public record, why can it be accessed by kids?
Read the book Eleanor & Park in full here:
https://protectchildhoodinnocence.com/books/Eleanor_n_Park-Read-This-Book-In-Full.pdf
---
Chilliwack BC, Schools 2022/23 Year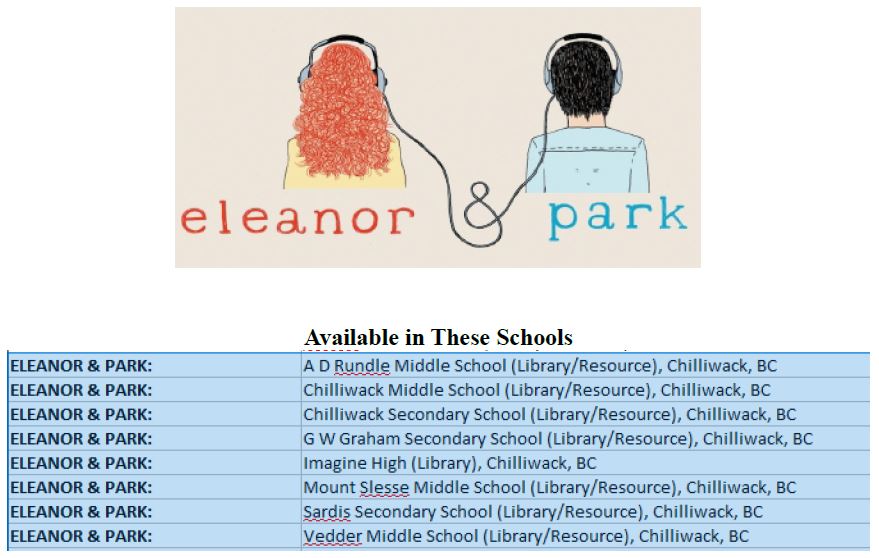 ---
Conservative MLA Bruce Banman prompts QP controversy over library books
It was the second controversial statement from Conservatives in as many days during Question Period
Question Period at the B.C. Legislature turned heads Wednesday (Oct. 4) with Conservatives continuing to be the centre of discussion – this time about library books.
Conservative Party of BC House Leader Bruce Banman read, then withdrew an unprintable quote from a book titled Eleanor & Park while asking a question about why the book and others like it is available in public schools to "children as young as 11 years of age."
"I stand here with parents in Abbotsford, who are deeply concerned about sexually graphic and explicit content…within our public school libraries to children as young as 11 years of age," he said before reading out the after having asked the House to "brace itself."
Speaker Raj Chouha asked Banman not to use that type of language, prompting Banman to apologize and to withdraw the comment from the official record. Conservatives later tweeted out the clip and the quote appears in Hansard.
WATCH: Conservative House Leader @BruceBanman asks the BC NDP why explicit sexual reading material is being offered to small children in schools.

The BC NDP refuses to answer the concerns of parents regarding the sexualization of their children in schools. Yesterday, we saw the… pic.twitter.com/EyjphwzZaO— Conservative Party of BC (@Conservative_BC) October 4, 2023
"Mr. Speaker, this language is deeply disturbing," Banman said. "As a grandfather, it shakes me to the core when I imagine that children could be exposed to this deeply disturbing, degrading language in British Columbia's public school libraries."
Education Minister Rachna Singh said schools are safe, inclusive spaces for everybody in response. "(The) teachers are using resources that are age-appropriate, audience-appropriate to give those values, to give those teachings that are so important to create those welcoming environments," she said.
Eleanor & Park by author Rainbow Rowell falls into the category of young adult novel. According to the official description from the publisher Orion Books, the story describes the first love of Eleanor, described as the "new girl in town" and Park, a boy of Korean descent.
"Slowly, steadily, through late-night conversations and an ever-growing stack of mix tapes, Eleanor and Park fall in love. They fall in love the way you do the first time, when you're 16, and you have nothing and everything to lose," it reads.
The book has won multiple awards and praise from critics as well as educators, including an award from the Young Adult Library Services Association for its coverage of various youth-related themes.
But the book also drew criticism from parents groups in the U.S. state of Minnesota and Banman's questioning is reminiscent of American legislators, who have called for the ban of various books.
The incident overshadowed a question period dominated by economic questions with BC United questioning the financial and economic record of governing New Democrats, who defended their record by pointing to various supports and tax cuts for lower income individuals, while acknowledging that some families are facing challenges in the face of global developments.
The incident was the second in as many days after Conservative John Rustad had accused the provincial government of dividing British Columbians through the introduction of sexual orientation and gender identity education in public schools. This questioning drew a sharp rebuke from Premier David Eby and a standing ovation from many members of the BC United caucus, joining their New Democratic and Green colleagues.
Banman said in an interview that he chose that segment because it drove home how "inappropriate the language" was. "If it is appropriate for me to use those words in the House with adults, it is common sense that 11-year-olds should not be exposed to that kind of vulgarity," he added.
"I scanned through some of it," he said, when asked how much of the rest of the book he had read.
Banman also disagreed with the suggestion that his line of questioning focusing on social value issues was part of a pattern after Rustad's comments about SOGI and after the main opposition party — BC United — had talked about economic issues. "My comments today had to do with this book being available in Abbotsford schools and I was appalled when I read it."
Banman also stressed that his comments should not be interpreted as a call for banning some books.
"So let me be clear," he said. "I didn't say that the book should necessarily be banned."
When asked what would happen in Question Period Thursday, "you will have to come and watch them."
Shared from https://www.nanaimobulletin.com/news/conservative-mla-bruce-banman-prompts-qp-controversy-over-library-books-4999270
---
BC United (Previously the BC Liberals) MLA Bruce Banman crosses floor to Conservatives
BC United MLA Bruce Banman is crossing the floor to join the BC Conservatives, True North has learned.
The Abbotsford South MLA will announce the move Wednesday morning.
This marks the second sitting MLA to leave the BC United caucus, formerly called the BC Liberals. With two sitting MLAs, the BC Conservatives will now have official party status in the legislature.
Party status will allow the BC Conservatives to have a caucus budget, extra office space and other advantages not granted to other parties who do not meet the requirement.
"When I was elected MLA for Abbotsford South, I promised to bring the concerns of everyday hardworking people and families to the forefront in British Columbia's Legislature in Victoria," wrote Banman in a statement.
"Today, after careful consideration, I have made the decision to join the Conservative Party of British Columbia to keep that promise to my community and my constituents."
Premier David Eby amended the Constitution Act in 2017 while serving as Attorney General to allow parties with two or more MLAs to achieve official status. Prior to the amendment, the requirement was a minimum of four MLAs.
First elected in 2020, Banman was the BC United Critic for Emergency Management, Climate Readiness and Citizens' Services. Prior to serving as an MLA, he was the mayor of Abbotsford from 2011 to 2014.
MLA John Rustad became the BC Conservative leader earlier this year after being ejected by BC United leader Kevin Falcon in March 2023 in response to comments he made questioning the official narrative around climate change.
At the time, Rustad was criticizing the link between CO2 emissions and climate change.
"I do not plan to stay silent on the many issues that are just wrong," he said at the time. "I plan to be vocal about them.
"It doesn't serve the environment movement well, it doesn't serve us as a province well.
Rustad was acclaimed to the party's top post Friday within a month of the party announcing a leadership race. Rustad replaced interim leader Trevor Bolin who led the BC Conservatives since 2019.
In his statement, Banman said that he looks forward to working with Rustad in opposing "Trudeau-backed policies" like the carbon tax.
"Conservatives have common sense. We don't support Trudeau-backed policies like the punishing carbon tax that hurts everyday people; we refuse to condone the ideological NDP education agenda that teaches students what to think instead of how to think; and, we will never support the myth of safe supply that kills British Columbians and poisons our communities with hard drugs," said Banman.
In February, he first renounced his status as an independent, before eventually joining the BC Conservatives and becoming the party's first sitting MLA in over a decade.
Prior to his switch, he had served as the Minister of Aboriginal Relations under former premier Christy Clark.
"I believe in a more self-sufficient BC," he told True North at the time, "ripe with economic opportunity, compassion for those in need and a protection for our most personal freedoms.
"Only one party offers this vision – the Conservative Party of BC."
Rustad's announcement that he'd join the Conservatives came six months after being ousted from the BC Liberals and some polls show the BC Conservatives ahead of BC United.
Shared from https://tnc.news/2023/09/13/bc-united-bruce-banman-conservatives1/
.