In light of the information that was recently made public regarding Mr. Tyson Cook, AKA Drag Queen Freida Whales, his upcoming event at the taxpayer funded Kelowna Library, must be cancelled.
View evidence and also sign the petition HERE.
The Mayor and Council have a fiduciary duty to act in good faith with regards to the interests of children, and society at large. If the Mayor and Council choose to support this event, or similar future events, they may be found criminally liable for facilitating the exploitation of minors.
Kelowna Mayor and City Council Email Contact List:
Mayor Dyas tdyas@kelowna.ca
Ron Cannan rcannan@kelowna.ca
Maxine DeHart mdehart@kelowna.ca
Charlie Hodge chodge@kelowna.ca
Gord Lovegrove glovegrove@kelowna.ca
Mohini Singh msingh@kelowna.ca
Luke Stack lstack@kelowna.ca
Rick Webber rwebber@kelowna.ca
Loyal Woolridge lwooldridge@kelowna.ca
Kelowna Public Library info@orl.bc.ca
Phone Number: Mayor Dyas Phone: 250-469-8980 Fax: 250-862-3399
Contact Kelowna RCMP Cpl James Jenkins, who works with the BC Integrated Child Exploitation Unit, at 250-762-3300 and report your concerns.
Tyson Cook, performs for children. Serious RED flags
Mr. Cook's extra-curricular activities are shocking to say the least. He created videos depicting murders that included cannibalism and Satanic-like rituals. His social media posts consist of sexually vulgar and profane language
Take ACTION! Copy and paste the letter below to your email, sign it and send to the contacts above
(or write your own letter).
Dear Mayor Dyas, City Council, and Cpl James Jenkins, ICE for Kelowna RCMP Integrated Child Exploitation Unit,

In light of the information that was recently made public regarding Mr. Tyson Cook, AKA Drag Queen Freida Whales missfreidawhales@gmail.com, his upcoming event at the taxpayer funded Kelowna Library on January 28, must be cancelled. The Mayor and Council have a fiduciary duty to act in good faith with regards to the interests of children, and society at large. If the Mayor and Council choose to support this event, or any future events, then they may be found criminally liable for facilitating the exploitation of minors.

Should the library decide to go ahead with this event further action will be pursued to defund the library, as I do not want my hard-earned money supporting the exploitation of children.

View the following montage of graphic videos Mr. Cook created depicting murders that also include cannibalism and a Satanic-like ritual. Several other disturbing videos were found wherein he takes an axe to his unconscious victim and then he attacks a woman from behind in an alley, knocks her out with chloroform, as his next victim. Mr. Cook's social media is also rife with vulgar and sexually explicit comments.

View video and evidence HERE.

This information was easily attainable which means that the city either knew and gave him a pass or never bothered to check. What are the city's policies and procedures for doing background checks on individuals in regards to their access to children? Mr. Cook works as a Certified Education Assistant in the Kelowna School District as well as a respite care worker with autistic children for BC Autism. The same questions apply.

Mr. Cook's extra-curricular activities are shocking to say the least and the fact that the city celebrates and promotes him as 'Kelowna Public Library's Drag Queen Story Time PERFORMER'! is appalling and the city's officials must be held accountable and investigated as they are facilitating child exploitation. Public Libraries are supposed to be a place where children and adults can safely go to access resources without fear of being subjected to a person or group of people whose proclivities should be restricted to private adult-only venues.

The Kelowna RCMP recently launched a Child Exploitation Unit due to a big surge in child pornography. There can be no doubt that there is a correlation between the campaign to normalize Drag Queens having access to children and the over-sexualizing of children in our education system through the radical LGBTQ sex activist's agenda. These campaigns are breaking down societal norms and a child's ability to recognize predators.

The Canadian Centre for Child Protection is also reporting a 56% increase in youth being "sextorted" by online predators who are targeting young children. The BC government and RCMP ICE unit have been aware of the growing exploitation of children for some time. From March to May 2020 they noted a 45% rise in reports of exploitation, including child luring, grooming and child sexual exploitation material, compared to the same period in 2019.

Make no mistake, the amendment to the Human Rights code to include "gender identity and gender expression" as a protected class is not an open invitation, nor defence, for men with adult sexual proclivities to have access to, or permit them to sexualize and exploit, children.

It is long overdue to put the rights and well-being of our children first rather than hiding behind virtue signalling and political correctness.

I therefore demand that the city immediately cancel Mr. Tyson's Drag event on January 28th and prohibit him from performing for children at any future events.

Sincerely,

_______________________________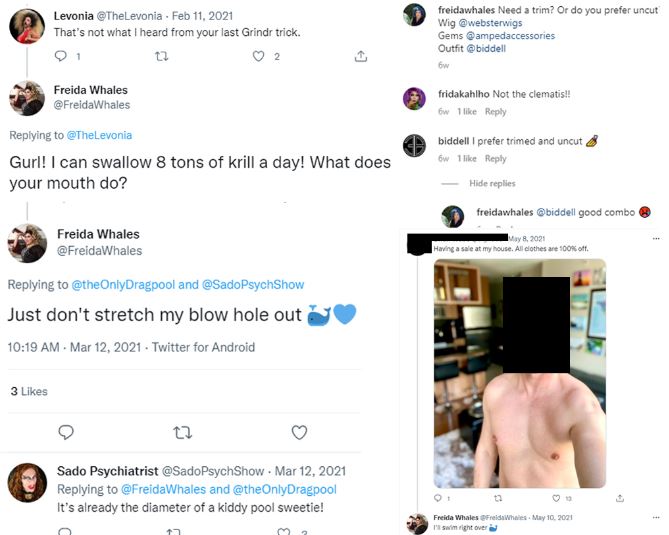 https://action4canada.com/cancel-kelowna-library-drag-event-for-children/