Meta, Facebook and Instagram's parent company, is making good on its threat to block news sharing on both platforms across Canada in response to Ottawa's online news bill, which became law late Thursday. MORE OF THIS STORY HERE
Proof! its been Happening for years now!
"Today, we are confirming that news availability will be ended on Facebook and Instagram for all users in Canada prior to the Online News Act (Bill C-18) taking effect," a blog post from the web giant notes.
"We have repeatedly shared that in order to comply with Bill C-18, passed today in Parliament, content from news outlets, including news publishers and broadcasters, will no longer be available to people accessing our platforms in Canada."
When will Facebook and Instagram stop sharing?
Bill C-18 received royal assent and officially became law after clearing the Senate in a final vote Thursday afternoon. But that doesn't mark the moment the bill comes into effect: that's a process that could take six months — and possibly longer — as the regulations surrounding the legislation are nailed down. Meta Canada has only said it will move forward with its threat at some point before that time period elapses. The company will also "keep Canadians informed of changes" to its services before the platform officially pulls the trigger, so it's not yet known what the ban will look like for users logging on to Facebook or Instagram.
Meta's move is in retaliation to a bill the Liberal government has called an effort to revive a journalism industry it says has been hurt by tech titans' domination of the digital advertising market.
The bill would compel platforms like Meta and Google — which share, preview and direct users to online news content — to strike deals with the media publishers behind those stories, and face financial penalties if they don't. A number of news publishers (including Torstar, which publishes the Toronto Star) have lobbied Ottawa regarding the bill, and already have deals in place with both companies for the sharing and repurposing of their content.
"Facebook knows very well that they have no obligations under the act right now. Following Royal Assent of Bill C-18, the government will engage in a regulatory and implementation process. If the government can't stand up for Canadians against tech giants, who will?" Heritage Minister Pablo Rodriguez said in a statement.
Both platforms have long opposed the bill, arguing that they are being unfairly forced into deals for driving traffic to online news outlets and generating key revenue for publishers.
"We estimate that Facebook Feed sent Canadian publishers more than 1.9 billion clicks in the last 12 months, free marketing worth more than $230 million in estimated value," Meta Canada's head of public policy Rachel Curran told senators studying the bill back in May.
This isn't the first time Facebook has made such a move: in 2021, the site blocked news publishers and users in Australia from sharing or viewing all local and international news content in response to a similar piece of legislation in that country. The ban spanned seven days and ended after tense negotiations between the tech giant and the Australian government.
Representatives from Meta and Google have met with government officials in recent days, with Google taking part in last-minute deliberations with Rodriguez's office on Thursday. The global search giant has not yet decided whether it will wipe news content from its platform. Both companies had previously said all options were on the table if they did not see specific changes made to the bill, which largely did not materialize as it progressed through the House of Commons and the Senate.
"We're doing everything we can to avoid an outcome that no one wants. Every step of the way, we've proposed thoughtful and pragmatic solutions that would have improved the bill and cleared the path for us to increase our already significant investments in the Canadian news ecosystem. So far, none of our concerns have been addressed," said Google spokesperson Shay Purdy.
Earlier this year, Google quietly launched a test designed to filter out news content on its search engine for a small percentage of its Canadian users. Meta followed suit in June, conducting a test that is still ongoing and limits news sharing for some of its users.
| More on Gmail censorship HERE | Search Engine Manipulation HERE |
Independent Sen. Paula Simons, who opposes the bill but has expressed alarm over the tech giants' threats, told her upper chamber colleagues last week that wiping news from the platforms could leave Canadians "in the dark without vital information they need for themselves and their families."
"Imagine that suddenly you can't share a story with your neighbours about a hostage-taking in your neighbourhood, or less dramatically, about plans for a highrise tower at the end of your block. Imagine that you can't share a story about Donald Trump's latest legal woes with your cousins, nor a story about wildfire smoke with your mother-in-law who has emphysema, nor a restaurant review from your local paper with your friends," the Alberta senator said.
Meta Canada said "fact-checking will continue with respect to content that remains available in Canada" to avoid misinformation spreading on the platform unchecked.
News publishers big and small have said decisions like the one Meta took today could have devastating impacts on the news industry, possibly resulting in millions of dollars in lost revenue or ending businesses altogether.
"Dominant search and social media platforms are valuable partners in the news media ecosystem, and we encourage all stakeholders to act in good faith as we work through the regulatory process," said Paul Deegan, president of News Media Canada, which earlier in the day welcomed the passage of the bill as a way to "restore fairness" to Canada's news industry. – Ottawa
Raisa Patel is an Ottawa-based reporter covering federal politics for the Star. Follow her on Twitter: @R_SPatel
Shared from https://www.thestar.com/politics/federal/2023/06/22/meta-to-end-news-sharing-on-facebook-and-instagram-for-canadians.html
---
Instagram, Facebook to block news for random Canadians, this has been happening for years now
Meta is poised to make a significant move that carries significant implications for news organizations and social media users. In anticipation of the potential approval of Bill C-18, also known as the Online News Act, Meta is preparing to implement a test strategy that would restrict certain Canadians from sharing and posting news content on Instagram and Facebook. The bill seeks to compel major digital companies to establish agreements with Canadian media publishers, directing users to and facilitating the sharing of online news. Raisa Patel provides insights into what Canadians can anticipate from this test and delves into the reasons behind Meta's controversial decision.
According to official sources in Ottawa, the federal government presents the bill as a means to foster a more equitable relationship between news outlets and digital platforms, which are deemed to unfairly dominate the digital advertising market. Torstar, in support of the bill, has already established news sharing agreements with Facebook and Instagram.
However, here's the twist: individuals selected for the test as social media users will not receive prior notification. Instead, they will discover that they are unable to share news content on their profiles only when they attempt to do so and receive a notification indicating the restriction.
Concerns have arisen in the aftermath of this development, with members of parliament and senators questioning whether removing trusted news sources from online platforms might enable the unbridled spread of misinformation.
In Ottawa, Meta faced a barrage of inquiries on Friday regarding the potential consequences of its decision to block Canadians from sharing news on Facebook, raising concerns about the amplification of misinformation on social media. The tech giant persisted in its criticism of the government's online news bill.
Last week, Facebook's parent company issued a cautionary statement against Bill C-18, a proposed legislation aiming to compel tech giants like Facebook and Google to share a portion of their revenue generated from linking news content on their platforms with the news outlets responsible for producing the articles. The bill seeks to support Canada's struggling journalism industry, as digital giants currently extract the majority of online ad revenues from the shared content.
During a session with the House of Commons heritage committee this week, Meta reaffirmed its earlier threat. Kevin Chan, the global policy director of the multinational tech company, expressed the need for transparency regarding the potential necessity to reconsider allowing the sharing of news content on Facebook in Canada due to the proposed legislation. Chan cited the bill's false assumptions and its creation of unprecedented financial liability for news links and content, which contradicts the logical functioning of Facebook.
Federal sources informed the Star that while they found the move "unfortunate," they were not taken aback by the warning since Meta had previously followed through on a similar threat in Australia when the country introduced comparable legislation. The company later reversed its decision after amendments were made to the bill at the request of Australia's treasurer.
Unlike Google, Meta had maintained relative silence regarding its concerns with Bill C-18. However, in a blog post published last Friday, the company disclosed that it was contemplating extreme measures for several reasons. One of the key arguments presented was that Facebook had delivered approximately two billion clicks to news publishers, which equated to a value of over $230 million, between 2021 and 2022.
Chan contended that the bill unjustly subsidized legacy media companies that struggled to adapt to the online landscape, thereby harming competition, smaller digital news outlets, and public trust in the media.
Instagram, Facebook to block news for random Canadians, this has been happening for years now
Shared from https://rumble.com/v2rvcjl-instagram-facebook-to-block-news-for-random-canadians-this-has-been-happeni.html
---
Meta to ban news content on Facebook and Instagram with Bill C-18 set to become law
On June 1, Facebook restricted access to news on its platform for 1.1 million Canadians — a move considered by Heritage Minister Pablo Rodriguez as 'pure intimidation tactics.'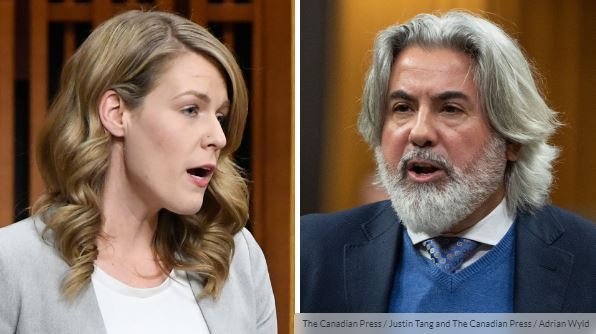 Meta, the parent company of Facebook and Instagram, has announced it will no longer permit the sharing and accessing news copy on its platforms. This will take effect before Parliament legislates Bill C-18, the Online News Act.
"We have repeatedly shared that to comply with Bill C-18, passed today in Parliament, content from news outlets, including news publishers and broadcasters, will no longer be available to people accessing our platforms in Canada," reads a statement from Meta.
The House of Commons passed a motion supporting the Senate amendments to the bill on Monday. Heritage Minister Pablo Rodriguez accepted most of them.
"As promised, we are accepting amendments that ensure tech giants pay their fair share for the local, regional and national news content that they benefit from having on their platforms, and we are declining the amendments that undermine the objectives of the bill," he told The Globe and Mail in a statement.
Bill C-18 is expected to gain royal assent before Parliament breaks for its summer recess.
On June 1, Facebook restricted access to news on its platform for 1.1 million Canadians — a move considered by Rodriguez as "pure intimidation tactics." He pledged to consult Canadians on Bill C-18, so they can "express themselves on the matter."
When it passes Parliament, it will compel tech giants to pay for Canadian journalism that helps the companies generate revenue. Meta said earlier this month it is prepared to end news content access for Canadian users permanently.
Conservative heritage critic Rachael Thomas told the House the bill "kills newspapers" by prompting platforms to no longer share links to news.
She contends Bill C-18 "puts the government squarely in the middle of the newsroom," threatening the independence of the press.
Since 2019, Parliament has subsidized outlets deemed "qualified" by the Canada Revenue Agency, worth up to 25% of the annual payroll or $13,750 per newsroom employee. The $595 million bailout program expires on March 31, 2024.
Thomas also warned against giving the regulator, the CRTC, power to compel news organizations to hand over confidential information. However, the ten amendments to pass the Commons include imposing financial penalties for leaking confidential financial information.
Paul Deegan, CEO of News Media Canada, said Meta's move to censor Canadian users from viewing and sharing news a "kick in the shins."
On May 30, Deegan testified to the Senate Transport and Communications committee on Bill C-18, calling Meta's decision to 'unfriend' Canada by denying access to 'trusted news sources' is "irresponsible and tone deaf."
He warned that if Facebook permanently blocked news sharing, it would restrict public access to reliable information.
"What would be left on their platform? They're the plumbing of social media, and you have clean drinking water, which is news. But then you have all sorts of sewage: the misinformation and disinformation," he said.
"What this bill is about is ensuring that local news survives."
Big publishers have told a Senate committee currently studying the bill that they could lose millions of dollars should their content be blocked by Meta.
Rachel Curran, the head of public policy for Meta Canada, told senators the company gave media over 1.9 million clicks in Canada in the past year, or "free marketing worth more than $230 million."
Meta confirmed that news content changes will not otherwise impact Meta's products and services in Canada "to connect with friends and family, grow their businesses and support their local communities."
"We will continue to combat misinformation and have built the largest global fact-checking network of any platform by partnering with more than 90 independent fact-checking organizations worldwide," said the tech giant.
"Fact-checking will continue [concerning] content that remains available in Canada."
CENSORSHIP | FACEBOOK | STOP THE CENSORSHIP | PABLO RODRIGUEZ | INSTAGRAM META BILL C-18
Shared from https://www.rebelnews.com/meta_to_ban_news_content_on_facebook_instagram_with_bill_c_18_set_to_become_law
.