"The vaccination orders themselves happened after 1 September 2021 and so strictly speaking are not covered by this ruling. However, since those health orders were made in the same illegal way, they are exposed to the risk of another application to have them declared Ultra Vires. As for the lockdown restrictions, they are all illegal. This comes under the tort of public malfeasance, and is actionable.
Ingram or Spin-Gram by David Dickson
The Charter is still in serious trouble. The Court here erred in even ruling on the Charter application. A court is only to make a constitutional ruling if there is no other way to decide a case. This ought to have been a 10 page decision. The last 80 are all Obiter Dicta aimed at vindicating the Kenney government. There was no need for the court to go on and consider the constitutionality of illegal laws.
The illegality of these Orders was the primary argument we presented, and was successful. This case therefore stands as the only superior court decision in the country which has ruled against a pandemic government in this way. It is important because it recognizes, however reluctantly, that government power is limited and that a court will tell them so. Governments in Canada are expected to govern in accordance with the laws that they make. In this case, Dr. Hinshaw was made the most powerful person in the history of our Province. She was a medical dictator granted the statutory power to use "any means necessary" to fight the pandemic, and that still was not enough. She even exceeded that level of authority. In this case, finally, the Rule of Law was affirmed.
Dr. Hinshaw was vivisected on cross-examination and it led to her removal as CMHO. The Court's depiction of her in this judgment is legal sophistry. Hinshaw was so bad that the Court spends pages trying to rehabilitate her, while making an ad hominem attack upon one of the world's most respected scientists, Dr. Jay Bhattacharya. In the end, this case is important to truth and justice. Two autocrats have been banished from AB—Kenney by populist political action and Hinshaw via this case.
WWII was not won in a single battle. Normandy did not end the war, but it was a huge victory. The challenge now is to continue fighting until the ultimate victory is won, i.e. restoration of the Rule of Law in Canada." ~Leighton Grey.
Major Victory for FREEDOM
---
Alberta judge rules that COVID mandates breached Alberta's Public Health Act
Justice Barbara Romaine says the province's improper decision-making framework contravened Alberta's Public Health Act — nullifying any legal standing for the 'justified' COVID measures and mandates.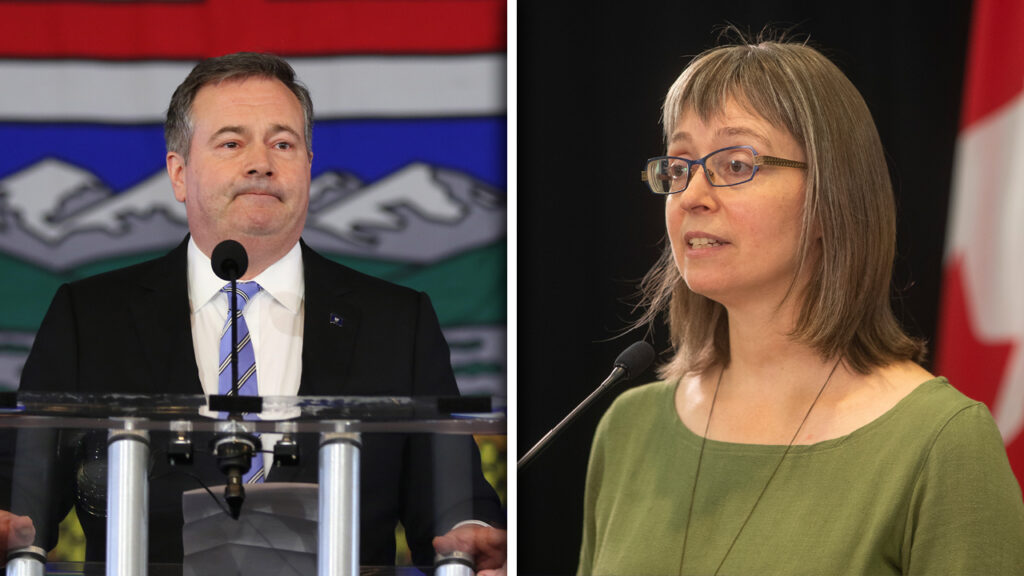 According to a court ruling, Alberta's then-chief medical officer of health Dr. Deena Hinshaw contravened the Alberta Bill of Rights and Charter of Rights when implementing COVID health measures.
Justice Barbara Romaine's decision on Monday articulates that while Hinshaw is "informed and well-qualified," she lacked the legal authority to implement the restrictions. The final decision-making power rested solely within Cabinet and elected-member committees.
"Although Dr. Hinshaw was maligned during the pandemic and afterwards as the symbol of the restrictions, she was not, in fact, the final decision-maker," wrote Romaine.
Some restrictions infringed on constitutional rights, whereas other infringements were "demonstrably justified" under the Charter because of the unprecedented public health emergency.
Romaine then said that the province's improper decision-making framework contravened Alberta's Public Health Act — nullifying any legal standing for the "justified" measures.
🚨MAJOR VICTORY IN ALBERTA🚨

The Covid-19 pandemic Orders under Dr. Hinshaw were found to be ultra vires (ie. illegally enacted) under section 29 of the Public Health Act in that the final decision makers were the cabinet and committees of cabinet, rather than Dr. Hinshaw or one… pic.twitter.com/3IihKonYH3— Eva Chipiuk, BSc, LLB, LLM (@forevaeva79) August 1, 2023
Monday's 90-page decision could alter the outcomes of several pandemic-related charges against parties accused of breaching public health rules, reported the CBC.
Chief among them is anti-lockdown rodeo organizer Ty Northcott, whose trial went on a hiatus pending Romaine's decision.
The plaintiffs — including two churches and a gym owner — filed the court action in December 2020, simultaneous to their emergency injunction, seeking to stay Alberta's COVID restrictions during Christmas.
At the time, then-premier Jason Kenney ordered the closure of casinos and gyms. He also banned social gatherings and imposed a mask mandate.
On December 21, 2020, Justice Anne Kirker refused to temporarily stay restrictions, stating the health measures protected the public's best interests.
However, the ruling prompted court deliberations that commenced in February 2022.
Sheila Gunn Reid explains how Alberta Health Services has been granted an order against Ty and Gail Northcott, the organizers of a previous protest rodeo, which aims to prevent them from holding a second protest rodeo this weekend.https://t.co/BiUfKqOWVE— Rebel News (@RebelNewsOnline) June 5, 2021
The plaintiffs argued that the virus did not kill younger, healthy people and suggested the government-imposed restrictions did more harm than good.
"The tensions between individual liberty and the greater good…is the heart of this case," said lawyer Leighton Grey in April 2022. He claimed the province "trampled" on Charter rights by not accounting for the overall impacts of their restrictions.
However, government Crown prosecutors argued the province experienced "democracy in action in the middle of the biggest public health crisis this province has seen."
They filed a 206-page affidavit on behalf of Hinshaw, leading to a cross-examination of the doctor spanning several days.
Alberta Premier Danielle Smith has worked to create a panel to review her predecessor's governance lapses during the pandemic to improve future responses to health emergencies. https://t.co/Lo7wYvwioY— Rebel News Canada (@RebelNews_CA) February 23, 2023
Hinshaw testified to the necessity of the restrictions while rejecting Grey's claim that the province based those restrictions on no actual data.
Grey capitulated that Hinshaw held "extraordinary" powers during the pandemic despite not holding elected office herself. She refuted the claim, stating that elected officials had the final say on her recommendations.
As of writing, the province has recorded more than 5,800 COVID-related deaths.
Shared from https://www.rebelnews.com/alberta_judge_rules_that_covid_mandates_breached_alberta_s_public_health_act
---
Alberta court strikes down public health orders that violated Charter freedoms
CALGARY, ALBERTA: The Justice Centre for Constitutional Freedoms is pleased with the Court of King's Bench of Alberta's decision to invalidate the public health orders of Dr. Deena Hinshaw, Chief Medical Officer of Health (CMOH), in Ingram v. Alberta. The court struck down these lockdown measures because they were effectively issued by Cabinet rather than by the CMOH. Dr. Hinshaw testified at trial that politicians were the final decision-making authority, and that she merely provided advice and recommendations.
With these health orders having been invalidated, it is expected that Crown prosecutors will need to withdraw charges against Ty Northcott/ Northcott Rodeo Inc., Pastor James Coates of Grace Life Church of Edmonton, Pastor Tim Stephens' church, Fairview Baptist Church, and others.
The court's ruling also confirms that lockdowns did violate Albertans' fundamental freedoms of conscience, religion, association, and peaceful assembly protected in the Canadian Charter of Rights and Freedoms. In this court action, the Alberta government produced no comprehensive studies, reports or data analyzing lockdown harms. Without any comprehensive cost-benefit analysis, Justice Barbara Romaine nevertheless concluded that lockdowns were justified violations of Charter freedoms because they produced more good than harm.
Using the slogan "two weeks to flatten the curve," the Alberta Government first declared a public health emergency in March of 2020, after which various Charter rights and freedoms were violated during the next two years. When Rebecca Ingram and other applicants filed their court action in December of 2020, the Alberta government had already been restricting Albertans' rights to associate freely, assemble peacefully, and practice their religious beliefs for almost nine months. This was the first court challenge to lockdown measures in Alberta. In spite of Charter freedoms having already been violated for almost nine months, the court granted the Alberta government's request to delay presenting its evidence until July of 2022.
In April 2022, Dr. Deena Hinshaw was cross-examined about what expert information she had at the time that these public health decisions were being determined. Dr. Hinshaw was specifically asked whether she was aware of any evidence of harms to elementary school children from being compelled to wear masks. Under oath, Dr. Hinshaw said no. Yet the court's ruling in another case, C.M. v. Alberta, has revealed that Dr. Hinshaw did receive information about how children could be harmed by mandatory mask-wearing. A February 7, 2022 memo sent to Premier Jason Kenney, on which Dr. Hinshaw was copied, stated that masks can disrupt learning and interfere with children's social, emotional, and speech development by impairing verbal and non-verbal communication, emotional signaling and facial recognition. Nevertheless, the Court dismissed an interlocutory application to compel Dr. Deena Hinshaw to re-attend court for further cross-examination.
"Significant injustice has taken place in the past three years under these draconian public health measures. We are hopeful this ruling will mean the withdrawal of charges against Pastor James Coates, Fairview Baptist Church, Ty Northcott, and other courageous citizens who refused to comply with unjust and utterly unscientific measures," states John Carpay, President of the Justice Centre.
Shared from https://www.jccf.ca/alberta-court-strikes-down-public-health-orders-that-violated-charter-freedoms/
---
Ingram or Spin-Gram by David Dickson
Ingram or Spin-gram?
MLA surprise and what to expect for the fall.
Vaccine rollout for the fall – Targeting children.
Excess deaths climbing.
.