Stand4Thee Cofounder posted this on Telegram, to reply to: Squamish 'drag queen' reading at Library.
| Squamish | Kelowna | Coquitlam | North Vancouver |
| Email Points For The Libraries (Stand4The) | Proud Boys | Adult Drag Community |
| ICOAAT Puts These Events On Locally |
This also goes on at the Squamish Library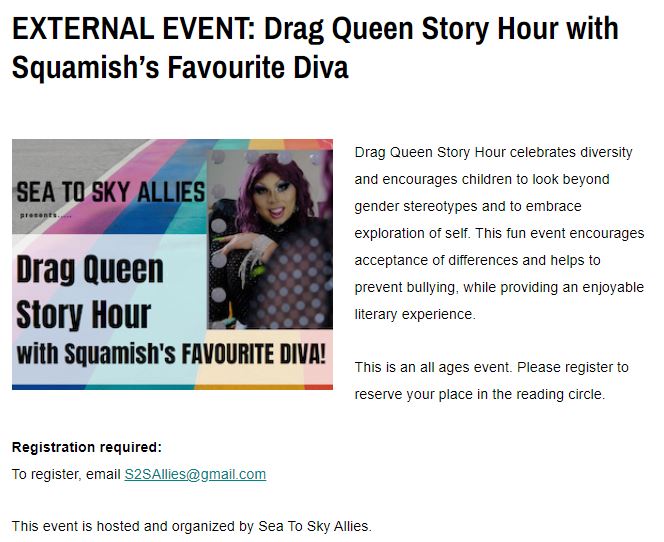 Quoted by Stand4Thee: "Okay guys we all have a mission right now, and that is to call these libraries and email the libraries and to share our concerns over these event.
Please do it in a respectful way to help to educate these people. This does nothing to help the trans Community, it's not it's actually making it harder for the trans Community is it slumping in trans people with these drag queens who clearly have an obsession with children.
I just called and spoke with a lovely young lady at the Squamish library who agreed with everything that the points I shared with her she's given me an email address where we can send our concerns. "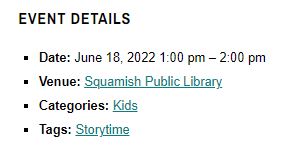 Send them to Hillary and her email is hbloom@squamish.ca
You can also email S2SAllies@gmail.com
You can also email library@squamish.ca
Original url https://squamishlibrary.ca/events/event/external-event-drag-queen-story-hour-with-squamishs-favourite-diva/
"Some points that I raised"
Stand4Thee Cofounder posted this on Telegram, to reply to this screenshot (Squamish 'drag queen' reading at Library). Please email these libraries or children's venues… some points to include
1. has anyone vetted the background of the performers in the drag queen story time? This is important as we now know that Panda Dolce in the United States has the song with lyrics "kids suck my dick". In 2019 a drag queen Story Time teller was arrested for child porn. And if you do searches you can see the inappropriate behaviours that are taking place in these libraries that are publicly funded.
Specifically 40+ second timestamp
2. How is bringing in a drag queen supposed to change the views of society on trans people? A trans person is not the same as a drag queen? these are not one in the same. One dresses up for entertainment value and often takes money for the work that they do. The other is a person who transitioning into a gender that they feel that they are and want to just live their life. That's not one in the same.
3. How is bringing in a gender-confused person, whom is overly sexually dressed and sometimes wearing demonic like accessories how is this beneficial to young children? How is it possible for any child especially young ones at the age of three and four to comprehend what is happening. What is the true motive of these drag queens going into libraries shaking their asses in front of children? It seems to me the net result would be gender confusion from young children. There is no value there is no reason to be teaching or discussing topics that these young minds cannot comprehend because their minds have not developed.
4. And how does this change the perception of trans people in the community at Large? Is this how we solve issues within a quality is exposing sexual content to children?
It's up to us to be the squeaky wheel guys.
We know that they're only in those libraries because they were the squeaky wheel. It's our job to get them out to protect our children. We have to make the phone calls.
We have to send out the emails. And we should be reaching out to our city councillors to ask them what the hell they're doing about this.
We have to be the Defenders of our children!
This also goes on at the Squamish Library
Story time with Pride Squamish at Squamish Public Library is fabulous with drag queen Dee Blew reading to a packed room!
---
Drag Queen Story Hour for Children… How To Stop The Shows Peacefully
---
Children's event in Kelowna had record turnout, but sparked an ideological battle over the role of libraries
When Miss Freida Whales stepped into the Okanagan Regional Library (ORL) last September, she was not prepared for the crowd waiting for the inaugural Drag Queen Story Hour.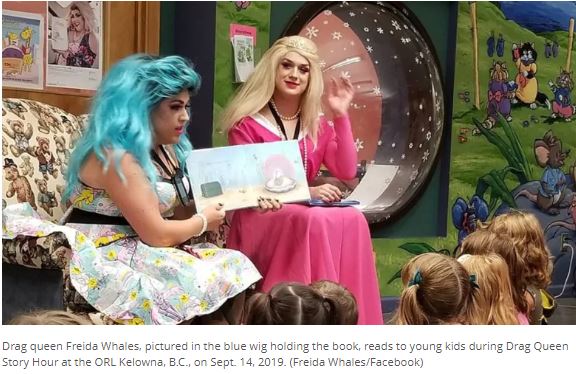 "I remember coming through the doors. I was wearing my blue wig with my unicorn pony dress," Miss Whales, played by Tyson Cook, recalled. "We finished setting up and the crowd grew and grew."
Despite the event's success, when the ORL invited Cook to read stories to kids during its storytime hour, it provoked pushback from many Kelowna residents. Following the first DQSH, an ideological battle broke out between the library board, librarians, drag queens, politicians, and parents, forcing the community to reassess the role of libraries and where drag queens fit into such public spaces.
One of its participants is speaking out against a memo issued by the Okanagan Regional Library's CEO, Don Nettleton, which called the branch's first ever Drag Queen Storytime event "controversial" and "potentially divisive."
The library invited local drag queens to come read stories to young children during their storytime hour. According to the Okanagan Regional Library website, the program "helps children develop empathy, learn about gender diversity and difference and tap into their own creativity."
In his memo, Nettleton suggested that there needs to be a policy set for controversial programming so that staff have something to refer to in the future when planning events. He also listed several concerns with the Drag Queen Storytime program.
CHIEF EXECUTIVE OFFICER Don Nettleton
250-860-4033 Ext 2491
dnettleton@orl.bc.ca
---
North Vancouver District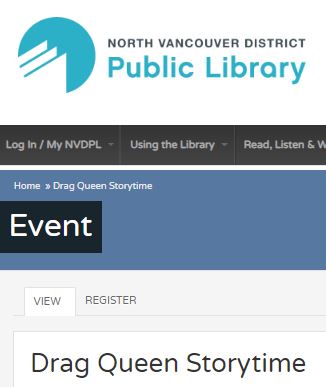 Presented in partnership with the Storytelling with Drag Queens Foundation. The program encourages literacy in a diverse and inclusive environment by having Drag performers read stories to adults and kids. It has now also evolved to become a tool of social activism and self-discovery for young audiences & performers. This program takes place on Zoom.
About Maiden China
Maiden China is an intersectional non-binary feminist drag performance artist who disrupts identity expectations and liberates audiences by inducing vulnerability. Maiden China's drag explores the concept of the "hyphen", liminal states of embodied being, and incorporates elements of classical Chinese opera, queer theory, resistance politics, and intimate contact performance art.
About Rose Butch
Born and raised on the stolen land of the Musqueam, Squamish, and Tsleil-Waututh Nations, colonially known as Vancouver, Rose Butch (they/them) is your Premier Non-Binary Drag Thing whose style and sensibility follows the pursuit of gender euphoria.
Audience: Children
All Library Board Trustees may be contacted through the North Vancouver District Public Library Director of Library Services, and Board Secretary, Jacqueline van Dyk
604-990-3740 / JvanDyk@nvdpl.ca
Executive Assistant: Suzanne Hendriks hendrikss@nvdpl.ca
Find more email addresses https://nvdpl.ca/leadership-team
---
SATURDAY, 27 AUGUST 2022 AT 11:30 UTC-06
Storytelling with Drag Queens: At the Library! Coquitlam Public Library
Storytelling with Drag Queens Foundation is a non-profit organization that promotes diversity and inclusion in literature!
| ask@coqlibrary.ca | 604-554-7323 |
https://www.facebook.com/icoaat/events
---
This is the organization that is doing this to our kids, locally
(ICOAAT) International Centre Of Arts And Technology
icoaat@gmail.com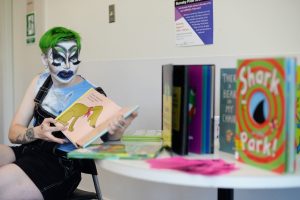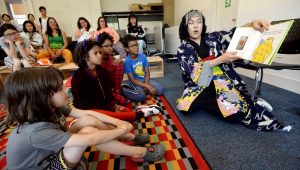 We hold several events around the city!
The Storytelling with Drag Queens Foundation's mandate is to promote diversity and inclusion in literacy for children, teens and adults. It consists of a diverse group of LGTBQ2S BIPOC drag performers that read stories, participate in sing-a-longs and perform for community organizations and the general public. The group also represents the drag community and answers questions from the audience about their performances and/or about their gender identities and gender fluidity. The Foundation seeks to provide a diverse set of queer role models in a fun and inclusive environment that promotes reading and comprehension through Queer literature.
Photos Storytelling with Drag Queens at the Burnaby Public Library by Jennifer Gauthier with the BurnabyNOW.
We have done shows with the Burnaby Public Library, The Port Moody Public Library, WORD Vancouver, the Canadian Memorial United Church & Centre For Peace, Cupcakes on Broadway, the Downtown Eastside Women's Centre, Cafe Deux Soleils and Cottage Bistro!
https://www.storytellingwithdragqueens.com/
https://www.icoaat.com/portfolio/storytellingwithdragqueens/
---
Whether it's the Radical Trans/LGBTQ Agenda, Critical Race Theory or Climate Change Propaganda, the Agenda is to target children and use them as "Agents of Change." Less than half of 1 percent of Canadians identify as Trans.
https://peoplesworldwar.com/un-agenda-to-sexualize-children/
---
Some History of the Now-Sickeningly Fashionable Transgender Children Movement
LifeSiteNews reports how Dr. Oz was an early promoter of the now-sickeningly fashionable transgender children movement, something also championed by Winfrey years before it went mainstream
A decade ago, Oz [A World Economic Forum Member] emerged as a critical, early backer of the transgender movement, running a special about "transgender children" during his show's first season on the air in 2010. The hour-long program promoted a fifteen-year-old girl who had undergone a double mastectomy at age fourteen and an eight-year-old boy being raised as a girl named "Josie."
The episode, "Transgender Kids: Too Young To Decide?," also featured transgender activist Dr. Robert Garofalo, a Chicago paediatrician "who advises hundreds of children and their families about gender transitions," according to LGBT lobby group GLAAD. [and WEF Partner] Garofalo encouraged parents to disregard medical professionals and give gender-confused kids highly dangerous, off-label hormone drugs and "sex change" surgeries before they turn sixteen.
WEF & Child Transgenderism If you research most of the companies listed on this page, you will see that they are WEF affiliated partners.
… and the UN (United Nations).
Links:
https://www.newsweek.com/sex-offender-busted-drag-queen-who-read-book-children-city-library-1365384
---
Visit Gays Against Groomers To Get Involved With The Community Group Trying To Stop This
Drag Entertainment Is For Adults NOT Children. Leave Our Kids Alone!
This is the CORRECT message from the
CORRECT community.
Drag Queen Goes Off on Woke Liberals
Taking Children to Drag Shows