The Saskatchewan government has suspended Planned Parenthood from presenting in the province's schools after the group made sexually explicit "Sex from A-Z" cards available to grade 9 students.
See Cards Here | Stew Peters | Action4Canada | Rebel News | Nadine Ness
Petition: https://www.rebelnews.com/tags/stop_classroom_grooming
Thank Saskatchewan's Education Minister Dustin Duncan
The cards being made available to kids at Lumsden High School north of Regina caused outrage among concerned parents.
The province's education minister Dustin Duncan said on Thursday, "I have directed and will be directing boards of education and administration to suspend for the time being the work in schools of Planned Parenthood as it relates to their involvement in health and wellness courses."
The "Sex from A-Z" cards in question were developed by the AIDS Committee of Toronto with the assistance from CATIE. They are "intended for gay, bi and queer young people," and are described as "a fun and accessible resource that facilitates humorous and frank discussion among young people about sexuality and HIV and STI prevention."
The cards feature explicit language about sex, sexual acts and certain fetishes.
The U card is for "Urophilia," which is a urine fetish, while another card discusses defecating on partners. The C card discusses "Cathodilla" which is "being attracted to one's television set." Meanwhile, S is for "Snowballing" which the sex card defines as the oral exchange of seminal fluid.
The sex cards also discuss porn. M being for "Money Shot" – "the cum shot in porn movies, when the oiled-up cowboy ejaculates." The X card is for "XXX" – "a rating for pornography."
"There's a lot of different kinds of porn – there's something for everyone," the card claims.
Other notable cards include the one for R, which discusses "Raw Sex", and the one for G, which talks about glory holes. The full deck of cards can be found HERE.
Duncan said the cards are "completely inappropriate to be in a classroom" and have "no part of being in a classroom." The minister noted that the situation upset him both in his capacity as a politician and as a father.
"I want to make sure that the Ministry of Education also is undertaking a review of our own information to ensure that it is appropriate and age-appropriate in particular," he added.
Duncan doesn't believe the situation precludes Planned Parenthood from being a part of delivering resources and information to classrooms in the future. [story continues below video]
Hamilton Wentworth District School Board: timestamp 5:20
Kawartha Pine Ridge District School Board: 7:28
In a statement to CTVNews, the school division said the "inappropriate" sex cards were a secondary resource made available to students at a side table.
"While the presentation itself was aligned with the Saskatchewan curriculum, the presenter brought a secondary resource which was not. This secondary resource, consisting of an A to Z sexual vocabulary, was inappropriate for students."
"It was not referred to in the actual presentation but was available at a side table after the presentation."
Meanwhile, Planned Parenthood Regina executive director Julian Wotherspoon told The Canadian Press the suspension of her organization was disappointing. Her organization believes "people of all ages have a right to that information about their sexual health."
"It's a little disconcerting that this decision was made so quickly and without consultation with us to establish that this resource was not part of what we were teaching," said Wotherspoon. "We're hoping they will follow up with us at some point."
Wotherspoon added that the Aids Committee of Toronto sex cards are usually not brought into classrooms as they are meant for more mature audiences. Planned Parenthood also apologized for what happened in Lumsden.
Wotherspoon also praised the group responsible for the sex cards as a "reputable source for material that is engaging, informative, sex-positive and stigma-reducing," adding "We have a lot of their stuff around."
Duncan claims Planned Parenthood initially did not have any issue with the sex cards.
"My understanding is the feedback from people that have called my office to say that they have contacted Planned Parenthood and Planned Parenthood didn't have an issue or didn't see what the issue was with this material."
"Anybody that's going into a school needs to be a lot more careful than that to ensure that the information they just happen to be bringing along from their office is appropriate."
Duncan also said he believes parents should be informed when their kids are learning about sex.
This is not the first time that these particular "Sex from A-Z" cards have been given out to students in publicly funded schools.
Earlier this year, the cards were given out to grade 8 and 9 students by a public health nurse at Fort Nelson Secondary School in Fort Nelson B.C. Cards were also given out to Chilliwack middle school students back in 2015.
Shared from https://tnc.news/2023/06/26/planned-parenthood-sask/
---
Cards given to Saskatchewan students by Planned Parenthood June 2023.
(For adult viewing only, please)
Find them at https://web.archive.org/web/20230621230023/http://librarypdf.catie.ca/ATI-20000s/26124.pdf
---
Planned Parenthood Teaches Kids GROTESQUE Sex Acts: Canadian School Grooms Kids
Starts @ :50 second timestamp.
Kids were targeted in Canada and taught depraved sexual acts.
Odessa Orlewicz, from Liberty Talk Canada, is here to talk about Planned Parenthood's sexual education curriculum.
The Canadian school held a sex-ed class and allowed Planned Parenthood to teach it.
During the class disgusting "sex cards" were made available to students that described grotesque sexual acts.
The Planned Parenthood located in Regina, Saskatchewan is now claiming the curriculum was a mistake and not supposed to be there.
However, the spokeswoman claimed she doesn't think this is a big deal.
The mainstream news is claiming this was an isolated incident.
However, these sex cards have been distributed at three other events across Canada.
They are teaching children the sex acts they want them to learn so they can molest them.
The Muslim community has been made aware of materials that sexualize kids and they have started threatening Justin Trudeau.
If parents continue to fight back the globalists' sex religion must be destroyed.
Watch this new segment NOW at https://StewPeters.com!
---
Contact Planned Parenthood Regina on their fb page (click image)

Visit their website: http://www.plannedparenthoodregina.com/
Phone: (306) 522-0902 // email: hello@ppregina.com
---
Canadian High School Students Given "Sex Education" Materials On Kink, Urine Fetishes
Natasha Biase / June 23, 2023
The Minister of Education in Saskatchewan, Canada has suspended Planned Parenthood from presenting in schools after the organization distributed disturbing sex education material to high school students.
One of the resources provided by Planned Parenthood was called Using Sex: From A to Z, which used cards to describe different aspects of sex or sexuality using letters of the alphabet. The resource sparked outrage among parents for its highly graphic content.
.
Starting with the letter A, the first card lists "auto-fellatio," which is described as the practice of a male performing fellatio on his own genitals. "Be aware," it reads, "you can spread an STI from one area of your body to another through skin-to-skin contact such as a herpes sore."
Other shocking cards given to the minors include "cathodillia," which is described as being attracted to one's television, "felching," which is the act of consuming semen from your partner's rectum, and "kink," which the card defines as "non-traditional sex." Another disturbing card describes "yellow and brown showers" as the act of "pissing and crapping on your partner."
The card reads: "If you're going to experiment with bodily fluids, best you keep them on the outside of your body to reduce risks of parasites or viruses."
After the materials were made available to students, parents received a follow-up email from Lumsden High School explaining that the presentation was related to sexually transmitted infections and consent and that Planned Parenthood had provided secondary reading materials.
Although the email claims that this additional reading was "not in the scope of the Grade 9 health curriculum" and that only one student took the card game home, some child safeguarding groups dismissed the school district's excuses.
Nadine Ness, founder and president of Unified Grassroots, a collective of concerned parents in Saskatchewan, took to Twitter to claim that the email from the school was dishonest and that several kids were exposed to the sexually explicit materials:
"Several kids grabbed some of the cards and were discussing them among themselves inside and outside of the classroom. Yea the email is incorrect. It was not one student."
Chris Elston, a Canadian activist known for his criticism of "gender ideology," also shared the materials on Twitter and reminded his followers that this is not the first time this card game has been distributed in Canadian schools.
In 2015, a school in Chilliwack, British Columbia, was forced to apologize for "accidentally" giving the same graphic sex education materials to 8th and 9th graders too.
Despite Saskatchewan's education Minister vowing that the ministry will ensure sex education materials are age appropriate, he also notes that Planned Parenthood could be allowed to present at schools again in the future.
Nadine Ness
shared from https://www.thepublica.com/canadian-high-school-students-given-sex-education-materials-on-kink-urine-fetishes/
---
Weekly Update: July 5th with Tanya Gaw – Action4Canada
In-depth Report on SOGI / Wynne Sex-Ed
https://rumble.com/v2ug07i-indepth-report-on-sogi123wynne-sex-ed-june-13-2023.html
Political LGBTQ Agenda
https://action4canada.com/political-lgbtq-activism/
Action4Canada launches full-court press on Sask education policy | Western Standard
https://www.westernstandard.news/news/action4canada-launches-full-court-press-on-sask-education-policy/article_a78387e8-1780-11ee-9f6c-13e3d8438447.html
RCMP drag show prompts complaints from citizen activists | Western Standard
https://www.westernstandard.news/news/rcmp-drag-show-prompts-complaints-from-citizen-activists/article_48d786b2-1849-11ee-a39f-5fc4a747ef0b.html
Sound of Freedom – find a theatre near you
www.soundoffreedommovie.com
Operation Underground Railroad (OUR)
https://ourrescue.org/
The Fight Against Worldwide Child Slavery & the Sex Trade | Jim Caviezel and Tim Ballard
https://www.youtube.com/watch?v=rTBGNEliczc&t=2106s
Action4Canada is a grassroots movement reaching out to millions of Canadians and UNITING our voices in opposition to the destructive policies tearing at the fabric of this nation. Through Call To ACTION campaigns, we equip citizens to take action. We are committed to protecting…FAITH, FAMILY and FREEDOM.
Thank you to our donors, volunteers & supporters
https://action4canada.com/message-to-a4c-donors-volunteers-supporters
A4C Orientation
https://rumble.com/v1z2ie9-a4c-orientation-december-01-2022-website-orientation.html
A4C Website Directory
https://action4canada.com/website-directory
Empower Hour page:
https://action4canada.com/wednesday-empower-hour
Empower Hour Guest's Resources: https://action4canada.com/useful-links
Empower Hour Registration: https://us06web.zoom.us/webinar/register/1916446148112/WN_rq64R52WQdyAsRbd0CAi0g
🙏 PRAYER: https://action4canada.com/prayer
✊DONATE: https://action4canada.com/donate
✊JOIN: https://action4canada.com/join/
✊JOIN A CHAPTER: https://action4canada.com/a4c-chapters/
✊BECOME A VOLUNTEER: https://action4canada.com/volunteer/
✊FAQs: https://action4canada.com/frequently-asked-questions
📌NOTICES OF LIABILITY: https://action4canada.com/covid-liability-notices/
✊YOUTH FREEDOM MOVEMENT: https://action4canada.com/youth-freedom-movement
✊RECENT ACTION: https://action4canada.com/call-to-action/
✊CONTACT US: callto@action4canada.com
===========================
You can follow us on our social media.
https://action4canada.com/a4c-social-media-platforms/
@Action4Canada
---
Rebel News: Petition https://www.rebelnews.com/tags/stop_classroom_grooming
Update: Planned Parenthood Sex Cards Distributed in Canadian Schools
Lumsden High School in Saskatchewan, as well as at least three other schools in British Columbia, distributed the pornographic cards to kids.
Many Canadians were disgusted to learn that decks of sexually explicit ABC cards were made accessible to grade 9 students at Lumsden High School in Saskatchewan.
Public outrage over the Planned Parenthood presentation porn cards, which teach sex terms one could expect to learn on the dark web, was quickly followed by a statement from the school apologizing for the distribution of the "health" resources.
Additionally, Saskatchewan Minister of Education Dustin Duncan announced a suspension of any Planned Parenthood presentations in schools, and that a review of the province's health and wellness curriculum for kids would be conducted.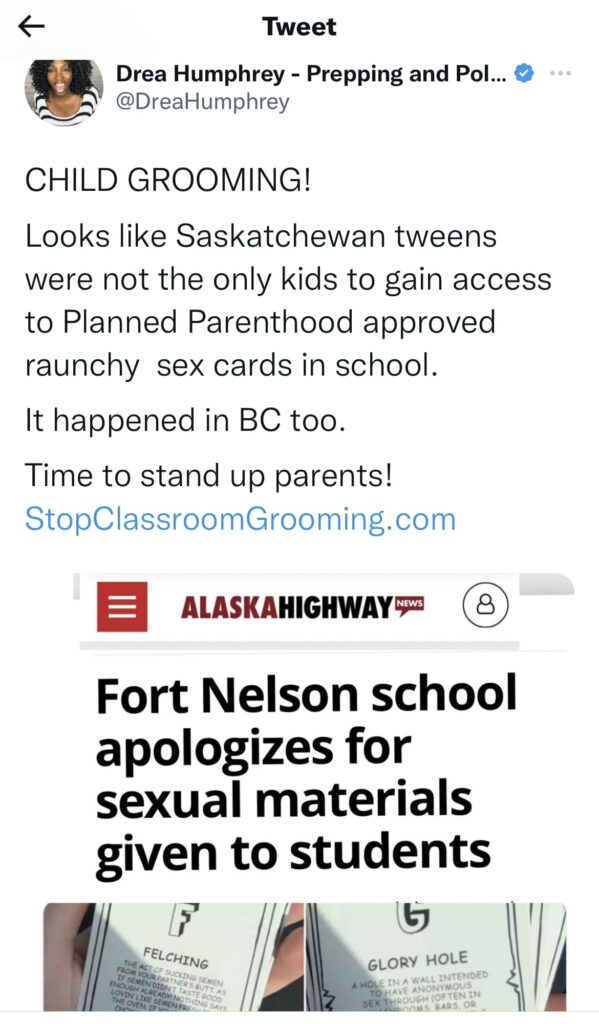 "I haven't had a lot of time to think about if I would have done it differently, but at this point, I would say no. I'd do it the same way," Duncan stated in defence of his swift handling of the situation.
While Duncan has received both criticism and applause for the measures he's taking to address the issue, some who agree with his choice say he still didn't act fast enough.
"They don't have all the facts, and they're minimizing what actually occurred," says Nadine Ness, a former police officer from Saskatchewan who is passionate about advocating for parental rights and safe spaces for kids.
Watch our video report to hear more from Ness, including our discussion about at least three other schools in B.C. that distributed the same pornographic cards to kids, and the parts of this story that the state and their choice media have been leaving out.
To educate yourself about, and take action against, the sexual indoctrination of children in schools, sign and share our petition at StopClassroomGrooming.com. That's also where you can donate to help cover the costs of raising awareness about this important issue.
shared from https://www.rebelnews.com/update_planned_parenthood_sex_cards_distributed_in_canadian_schools
---
Email Provincial & Territorial Educations Ministers to tell them: NO to SOGI, NO to Planned Parenthood!
We're done! (This directory is for Ministers of Education as of July 2023) Search Ministry departments for updates/changes.
Hon. Dustin Duncan | Minister (Saskatchewan Minister of Education)
Education | Minister's Office Room 361, 2405 Legislative Drive, Regina, SK, S4S0B3 | 306-787-7360
minister.edu@gov.sk.ca
Contact All Provincial & Territorial Education Ministers
ALBERTA
Nicolaides, Demetrios, Honourable
Minister of Education
228 Legislature Building
10800 – 97 Avenue Edmonton, AB T5K 2B6
Phone: 780 427-5010
Fax: 780 427-5018
Email: education.minister@gov.ab.ca
---
NEW BRUNSWICK
Honourable Bill Hogan, Minister of Education/Early Childhood Development
639 Main Street, Woodstock,
NB E7M 2C7
Phone: (506) 277-6020
Email: Bill.Hogan@gnb.ca
---
NOVA SCOTIA
Honourable Becky Druhan, Education and Early Childhood Development
4th Floor, Brunswick Place
2021 Brunswick st. P.O. Box 578
Halifax, Nova Scotia B3J 2S9
Phone: 902-424-4236
Fax: 902-424-0680
Email: educmin@novascotia.ca
---
PRINCE EDWARD ISLAND
Bethany MacLeod, Deputy Minister Education and Early Years
Deputy Minister's Office
Holman Centre
250 Water Street, Summerside, PE C1N 1B6
Phone: 902-438-4876
Fax: 902-438-4150
Email: brmacleod@gov.pe.ca
---
BRITISH COLUMBIA
Honourable Rachna Singh
Minister of Education and Child Care
PO Box 9045 Stn Prov Govt
Victoria, BC V8W 9E2
Phone: 250 356-8247
Fax: 250 356-0948
Email: ECC.Minister@gov.bc.ca
---
NEWFOUNDLAND & LABRADOR
Krista Lynn Howell Minister of Education
3rd Floor, West Block, Confederation Building, P.O. Box 8700, St. John's, NL A1B 4J6
Phone: (709) 729-5097
Fax: (709) 729-1400
Email: education@gov.nl.ca
---
NUNAVUT
Honourable Pamela Hakongak Gross, Deputy Premier, Minister of Education, Minister of Culture and Heritage, Minister of Languages, Minister responsible for Seniors
P.O. Box 2450, Cambridge Bay,
NU X0B 0C0
Phone: (867) 975-5028
Fax: (867) 975-5016
Email: pgross6@gov.nu.ca
---
QUEBEC
Bernard Drainville, Minister of Education. Ministre de l'Éducation.
600, Fullum Street, 9th floor
Montreal, Quebec H2K 4L1
Telephone: 514 873-4792
Fax: 514 873-1082
ministre@education.gouv.qc.ca
---
MANITOBA
The Honourable Wayne Ewasko
Minister of Education/Early Childhood Learning
168 Legislative Building, 450 Broadway
Winnipeg, MB R3C 0V8
Phone: 204-945-3720
Email minedu@manitoba.ca
---
NORTHWEST TERRITORIES
R.J. Simpson Minister of: Minister of Education, Culture and Employment, Minister of Justice, Government House Leader, Special Committee on Reconciliation and Indigenous Affairs – Member
P.O. Box 1320 Yellowknife, NT X1A 2L9
Phone: 867-767-9141 ext. 11120
Email: Rj_simpson@gov.nt.ca
---
ONTARIO
Hon. Stephen Lecce, Minister of Education.
5th Flr, 438 University Ave, Toronto, ON M7A 2A5
Phone: 416-325-2600
Fax: 416-325-6348
Email: minister.edu@ontario.ca
---
YUKON
Hon. Jeanie McLean, Minister of Education
Minister responsible for the Women and Gender Equity Directorate
Yukon Legislative Assembly, Box 2703
Whitehorse, Yukon, Y1A 2C6
Phone: 867-393-7494
Fax: 867-393-7135
Email: Jeanie.McLean@yukon.ca
---