The UN-Forum Partnership was signed in a meeting held at United Nations headquarters between UN Secretary-General António Guterres and World Economic Founder and Executive Chairman Klaus Schwab to accelerate the implementation of the 2030 Agenda for Sustainable Development
The partnership identifies six areas of focus – financing the 2030 Agenda, climate change, health, digital cooperation, gender equality and empowerment of women, education and skills – to strengthen and broaden their combined impact by building on existing and new collaborations
The full partnership framework can be found here (or scroll down)
Alem Tedeneke, Media Manager, Tel.: +1 646 204 9191, Email: ated@weforum.org
New York, USA, 13 June 2019 – The World Economic Forum and the United Nations signed today a Strategic Partnership Framework outlining areas of cooperation to deepen institutional engagement and jointly accelerate the implementation of the 2030 Agenda for Sustainable Development. The framework was drafted based on a mapping of existing collaboration between the two institutions and will enable a more strategic and coordinated approach towards delivering impact.
The UN-Forum Partnership was signed in a meeting held at United Nations headquarters between UN Secretary-General António Guterres and World Economic Founder and Executive Chairman Klaus Schwab.
"Meeting the Sustainable Development Goals is essential for the future of humanity. The World Economic Forum is committed to supporting this effort, and working with the United Nations to build a more prosperous and equitable future," said Klaus Schwab, World Economic Founder and Executive Chairman.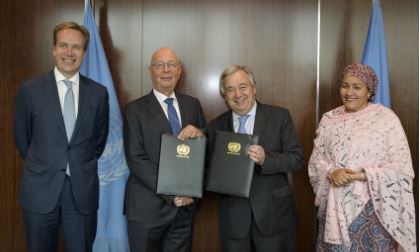 "The new Strategic Partnership Framework between the United Nations and the World Economic Forum has great potential to advance our efforts on key global challenges and opportunities, from climate change, health and education to gender equality, digital cooperation and financing for sustainable development. Rooted in UN norms and values, the Framework underscores the invaluable role of the private sector in this work – and points the way toward action to generate shared prosperity on a healthy planet while leaving no one behind," said António Guterres, UN Secretary-General.
The Strategic Partnership Framework will focus on the following areas:
Financing the 2030 Agenda –Mobilize systems and accelerate finance flows toward the 2030 Agenda and the UN Sustainable Development Goals, taking forward solutions to increase long-term SDG investments.
Climate change –Achieve clear, measurable and public commitments from the private sector to reach carbon neutrality by 2050, help create public-private platforms in critical high-emitting sectors, and scale up the services required to adapt to the impacts of climate change.
Health – Support countries achieve good health and well-being for all, within the context of the 2030 Agenda, focusing on key emerging global health threats that require stronger multistakeholder partnership and action.
Digital cooperation – Meet the needs of the Fourth Industrial Revolution while seeking to advance global analysis, dialogue and standards for digital governance and digital inclusiveness.
Gender equality and the empowerment of women – Foster multistakeholder partnerships and coalitions for full participation and equal opportunities of women at all levels of decision-making and for productive participation of women in the labour force, and promote equal pay for work of equal value across sectors and occupations as well as within them.
Education and skills – Promote public-private partnerships to address global reskilling and lifelong learning for the future requirements for work, and empower youth with competencies for life and decent work.
The leadership across the United Nations will engage in and utilize the different platforms provided by the World Economic Forum to advance impact in the above areas. Both institutions will annually review the partnership to further streamline collaboration, take stock of results and identify additional areas to jointly invest efforts in.
Notes to Editors
Read the Forum Agenda at http://wef.ch/agenda
Become a fan of the Forum on Facebook at http://wef.ch/facebook
Watch Forum videos at http://wef.ch/video
Follow the Forum on Twitter via @wef and @davos
Follow the Forum on Instagram at http://wef.ch/instagram
Follow the Forum on LinkedIn at http://wef.ch/linkedin
Learn about the Forum's impact on http://wef.ch/impact
Subscribe to Forum news releases at http://wef.ch/news
Shared from https://www.weforum.org/press/2019/06/world-economic-forum-and-un-sign-strategic-partnership-framework
---
The U.N. & World Economic Forum are using each other to implement 'Agenda 2030' & 'The Great Reset'
BY THE EXPOSÉ ON OCTOBER 21, 2022 [Still a relevant article]
The United Nations ("UN") "unites" the governments of 193 countries of the world. Whilst the World Economic Forum ("WEF") "unites" 1,000 of the world's largest corporations. The two are joined by a strategic partnership to implement the UN's Sustainable Development Goals of Agenda 2030. An agenda which aims to control every aspect of our lives.

None of these organisations or companies has officials which represent the people. We have not elected them into office to govern or make decisions on our behalf. And, no electorate has been asked if their goals are our goals or if their goals will create the world we, the people, want.
The UN's Agenda 2030 for Sustainable Development ("Agenda")
The Agenda, and the Green New Deal, are the ugly sisters of Agenda 21.
According to the Agenda, the 17 Sustainable Development Goals "clearly define the world we want – applying to all nations and leaving no one behind". The UN makes clear that "business has to play a very important role in the process".
Paragraph 28 of the Agenda states that "we commit to making fundamental changes in the way that our societies produce and consume goods and services."
Paragraph 52 states that this journey "will involve Governments as well as Parliaments, the UN system and other international institutions, local authorities, indigenous peoples, civil society, business and the private sector, the scientificand academic community – and all people."
Within the UN's Sustainable Policy, which Britain has adopted, we find the objective to remove private ownership whilst at the same time we also find the objective to re-wild the countryside – the UN envisions that most of the people in the world will be living in cities by 2050.
The Agenda is "a codename for a master plan at the United Nations to change the political and economic system of the world to one of collectivism. And in order to do that people must not be allowed to have independence. They must be dependent on the state otherwise they won't be easily controlled by the state. That means they can't have private property. They can't have land of their own. They have to live in, preferably, high-rise apartments that are provided to them by the state as a benefit, so to speak," says G. Edward Griffin, "in order to control mankind you have to get them all into the big cities. You have to get them dependent on the state for food, shelter, electrical power, their water. everything." That's the dirty secret behind the Agenda. (see the documentary 'Unsustainable – The UN's Agenda for World Domination' below).
The Agenda has been rolling out, bit by bit, to cities throughout the world for years. Local governments are incentivised through handouts from their central governments to implement it. For example, at various times the UK adopted the 'Core Cities Group', the '100 Resilient Cities Project', and the 'Global Parliament of Mayors' movement. These initiatives aim to gain total control of the levers of power in our cities and regions. The Agenda is a "global movement, coordinated through a global to local action plan." A key facet of that action plan is to push the agenda down to the most local levels in society. There are multiple paths and they all lead to a 'One World Government'.
The same has been happening in the United States as explained in James Jaeger's documentary UNsustainable (linked below). Although it's lengthy at 2.5 hours, it's well worth watching as it gives a deeper understanding of the Agenda, how it's being implemented and its local and global impact. While watching you will find you are able to draw parallels to what is happening in your own locality.
Watch UNsustainable Here. Includes Sources
According to Celeste Solum the Agenda was brought forward and "by 2025 they do not want us to take anything from nature, anything we consume will be laboratory generated."
Proof the Agenda has been brought forward can be seen in the UK. The Government's 'Absolute Zero' report originally aimed for net zero carbon emission by 2050. However, the Government enshrined in law a new target in April 2021 to cut emissions by 78% by the year 2035.
The WEF and the UN's Agenda
The WEF, a global NGO based in Switzerland, is mostly funded by its 1,000 member companies as well as public subsidies. It has been listed as a participant of the UN's Global Compact since 15 July 2003. Global Compact is a mechanism to advance the global goals of the UN.
The WEF's Board of Trustees include:
Christine Lagarde – President European Central Bank
Larry Fink – Chairman and CEO Blackrock
Christina Freeland – Canada's Deputy Prime Minister and Minister of Finance
Tharman Shanmugaratnam – Senior Minister, Government of Singapore
Mark Carney – formerly Governor Bank of England and now UN Special Envoy for Climate Action
Al Gore – former Vice President, United States, founder and chairman, the Climate Reality Project, a non-profit organisation "committed to solving the climate crisis"
In June 2019, the UN-WEF Strategic Partnership Framework ("Partnership") was signed to accelerate the implementation of the Agenda. The WEF represents the financial "elites."
The WEF states: "The Partnership identifies six areas of focus – financing the 2030 Agenda, climate change, health, digital cooperation, gender equality and empowerment of women, education and skills – to strengthen and broaden their combined impact by building on existing and new collaborations." Climate change, health, gender equality and education are four of the 17 Goals of the Agenda.
In October 2019, the WEF teamed up with Johns Hopkins University and the Bill and Melinda Gates Foundation to stage a pandemic exercise, Event 201, which simulated a coronavirus outbreak.
In March 2020, a worldwide coronavirus pandemic was declared by the World Health Organisation. The WEF played a key role in the launching of the March 2020 lockdown. Since then, we have seen indications of the WEF fulfilling its side of the Partnership to "strengthen and broaden" the combined impact of the Agenda's goals.
In July 2021, the WEF hosted Cyber Polygon 2020 the central theme of which was a "digital pandemic." The language used for this event was bizarre and we should suspect that specific language was selected – carefully crafted, carefully put together – to be more than simply "words on a page."
The promotional video (below) for the Cyber Polygon 2020 event states: "Fortunately, at least until now, cyber-attacks have not impacted our health the way pandemics have. At least until now."
In August 2021, the World Economic Forum announced plans to establish a new global Centre for Urban Transformation, headquartered in Detroit, to increase public-private collaboration in cities and advance more inclusive and sustainable models for urban development.
"By 2030, six out of every ten people in the world are expected to reside in cities," said Maimunah Mohd Sharif, Executive Director of UN-Habitat. "We need an urgent change in mindsets, policies, and approaches towards urbanisation to ensure nobody is left behind. We look forward to working with the World Economic Forum to advance the New Urban Agenda and Sustainable Development Goal 11 to make cities inclusive, safe, resilient and sustainable."
WEF Partners
As mentioned above: the Agenda states it will involve business and the private sector; and, the WEF represents the financial "elites." It follows that the WEF is being used as the bridge between the UN and businesses, the private sector, to implement their Agenda.
View List of WEF Partnered Companies to Avoid HERE
The WEF has one Strategic Foundation Partner, the Bill & Melinda Gates Foundation, one Strategic Technology Partner, Salesforce, and 100 Strategic Partners comprising leading companies from around the world, each selected for their commitment to improving the state of the world.
The Strategic Partners "believe in the power of collaboration" to drive change, and to "help shape industry, regional and global agendas." Strategic Partners include: Amazon, AstraZeneca, Blackrock, Facebook, Google, Johnson & Johnson, Morgan Stanley, Open Society Foundations and Pfizer. All but a few of the major players, media excepted, who we strongly associate with the Covid "pandemic."
Surprisingly Twitter and Moderna are not WEF Strategic Partners. However, Twitter's top three institutional owners are Morgan Stanley, the Vanguard Group and BlackRock [Article written prior to Elon Musk purchasing Twitter]. And, the top institutional shareholders of Moderna are Baillie Gifford & Company, and Flagship Pioneering Inc. (founded by Noubar Afeyan) followed by Vanguard, Blackrock and Morgan Stanley.
One of the biggest fund managers in the in the world – The Vanguard Group – is not listed as a WEF strategic partner and is noticeable by its absence. However, it may not be necessary for them to be "visible" as the "Big Three" – Blackrock, State Street and Vanguard – together form a hidden monopoly on global asset holdings. The two biggest are Vanguard and Blackrock, and Vanguard is the biggest shareholder of Blackrock.
In addition to the "Big Three's" shareholdings of corporations who are WEF strategic partners, through their influence over centralised media, they have the power to manipulate and control a great deal of the world's economy and events, and how the world views it all.
WEF, more accurately Klaus Schwab's, Forum of Young Global Leaders
The Forum of Young Global Leaders was launched by Klaus Schwab in 2004. It is managed by a board of twelve members, one of which is Jimmy Wales (co-founder of Wikipedia), under the supervision of the Swiss government. Its forum website states "we are … aligned with the World Economic Forum's mission, we seek to drive public-private cooperation in the global public interest." However, in 2008 BusinessWeek described it as "the most exclusive private social network in the world."
There are over 1400 members and alumni of 120 nationalities. There are over 600 alumni across 90 countries who "are CEOs of Fortune 500 corporations, in royal houses, in leading NGO's and national non-profits, public figures in civil society, sports personalities, and more."
Notable members and alumni include: Jacinda Ardern, Prime Minister of New Zealand; Sebastian Kurz, Chancellor of Austria; both Larry Page and Sergey Brin, co-founders of Google; Anderson Cooper, primary anchor of CNN News; and, Mark Zuckerberg, co-founder of Facebook.
You can search through members for yourself HERE. Selecting the option "Public Figure" from the "Sector" filter returns some interesting names within governments. Below are some examples:
Divya Seshamani, Council for Sustainable Business, UK
Lord Gadhia of Northwood, Member of the House of Lords, UK
Ida Auken, Member of Parliament, Denmark
Oana Bizgan-Gayral, Member of Parliament, Romania
Alexander De Croo, Prime Minister of Belgium
Sanni Grahn-Laasonen, Member of Parliament, Finland
Emmanuel Macron, President of France
H.R.H. Crown Prince Haakon of Norway, Crown Prince of Norway
Leo Varadkar, former Taoiseach of Ireland
Chrystia Freeland, Deputy Prime Minister and Minister of Finance, Canada
Karina Gould, Minister of International Development, Canada
Jagmeet Singh, Leader, Canada's New Democrats, Canada
Ailish Campbell, Ambassador of Canada to the European Union, Global Affairs Canada
Renée Maria Tremblay, Senior Counsel, Supreme Court of Canada, Canada
Peter Buttigieg, Secretary of Transportation, USA
Sheila Redzepi, Vice-President for External and Corporate Affairs, World Bank
The Young Global Leaders members enrol and are "active" for six years. Using terminology such as – class of; graduation; year awarded; and, alumni we could be forgiven for having the impression that it is a finishing school for globalists.
If we, the people of the world, want to stop the totalitarian state of the Agenda from taking over our world and everything in it, we need to start by dismantling the UN and its affiliates. For those nations whose core values include individual freedoms, inalienable rights and democracy we could replace the UN with a United Democracies of the World.
Shared from https://expose-news.com/2022/10/21/un-wef-agenda-2030-great-reset/
---
Globalist Cabal Meets Again to Prepare for World Domination. The WEF's Take Over of the UN
Attendees at the exclusive January 2023 World Economic Forum (WEF) meeting in Davos, Switzerland, included FBI director Chris Wray, MI6 chief Richard Moore, Secretary-General of NATO Jens Stoltenberg, the CEOs of Amazon, BlackRock and Pfizer (just to name a few), Gates Foundation executives and Cybernetics School director Genevieve Bell
The publisher of The New York Times and CNN anchor Fareed Zakaria were also in attendance, as were Ukrainian President Zelensky and a long list of other presidents, prime ministers, ministers, senators, House representatives, commissioners, governors, mayors, bankers, royalty, officials from the UN and Red Cross, as well as military, customs and space agency officials
The people gathering at this meeting, which is by invitation only, are among the ones deciding how the rest of us are going to live our lives, what rights we'll have regardless of local constitutions, and how the world is to be run
The WEF works closely with the World Health Organization and the United Nations to make sure the UN's sustainable development goals are met. The sustainable development goals are the foundation upon which the WEF's Great Reset agenda is built
The WEF is also helping the WHO seize power through its pandemic treaty. If enacted, member states will surrender their sovereignty to the WHO, making it a de facto one world governing body
As reviewed by comedian Jimmy Dore of "The Jimmy Dore Show" in the video above, the World Health Organization began drafting a global pandemic treaty in mid-2022, which would grant it the sole power to make decisions relating to global biosecurity, including but not limited to the implementation of a global vaccine passport/digital identity, mandatory vaccinations, travel restrictions and standardized medical care.
As noted by Dore, "Then they can just shut your bank account down when you do something they don't like, like protesting." Indeed, in 2022, the Canadian government seized the bank accounts of people who had donated money to the trucker convoy, and this was basically a preview of the kind of power the WHO would have.
Treaty Members Will Surrender Their Sovereignty
Even if centralizing biosecurity were a good idea, which it's not, the WHO would not be at the top of the list of organizations to be charged with this task. In his monologue, Dore quotes my May 2022 article, "What You Need to Know About the WHO Pandemic Treaty," which was republished by The Defender:1
"As just one example, the WHO didn't publicly admit SARS-CoV-2 was airborne until the end of December 2021, yet scientists knew the virus was airborne within weeks of the pandemic being declared. The WHO also ignored early advice about airborne transmission.
So, it seems clear that the effort to now hand over more power to the WHO is about something other than them being the most qualified to make health decisions that benefit and protect everyone. With this treaty in place, all member nations will be subject to the WHO's dictates … even if the people have rejected such plans using local democratic processes."
In short, every country that signs onto the WHO's pandemic treaty will voluntarily give up its sovereignty and the bodily autonomy of all its citizens. Making matters worse, we aren't even told exactly who the people are who will make this decision, so we, the people, don't know who to contact to make our voices heard.
How the Globalist Cabal Infiltrated Governments Worldwide
This is all happening outside the democratic process, and that's intentional. The globalist cabal realized they could not convince billions of people into giving up their rights and freedoms. Instead, they focused on installing their own people in key positions around the world, so they could then make decisions that benefited the cult.
A key player in this global takeover plan is the World Economic Forum (WEF), founded in 1971. A great number of the installed globalists are graduates of the WEF's Forum of Young Global Leaders,2 (formerly the Global Leaders for Tomorrow school3), where they're indoctrinated in technocratic ideals such as transhumanism which, whether they realize it or not, is nothing but eugenics rebranded.
Transhumanism, like eugenics, is about creating a superior race; in this case, a race augmented by and through technology rather than selective breeding. As of the end of 2022, the Young Global Leaders community had more than 1,400 members from 120 nations, and in addition to political leaders, alumni also include "civic and business innovators, entrepreneurs, technology pioneers, educators, activists, artists [and] journalists."
The Young Global Leaders forum is not the only incubator of technocrats, but it's one of the most well-recognized. WEF founder Klaus Schwab has openly bragged about the number of Young Global Leaders alumni that have successfully infiltrated governments around the world, including Canada, where more than 80% of Prime Minister Justin Trudeau's cabinet are former WEF students.
Trudeau himself is also a Young Global Leader graduate. In a 2017 interview (video below), Schwab stated:4
"This notion to integrate young leaders is part of the World Economic Forum since many years … What we are really proud of now is young generation leaders like Prime Minister Trudeau … We penetrate the cabinets. I was at a reception for Prime Minister Trudeau and I know that half of his cabinet, or even more than half of his cabinet, are actually Young Global Leaders."
The WEF's Takeover of the UN
The Young Global Leaders school was founded in 1992, the same year Agenda 21 was introduced. This makes sense, as they're part of the same plan. Agenda 21 is the actual action agenda for the United Nations' sustainable development plans, while the WEF trains propagandists and implementers.
While the UN and WEF have clearly worked hand in hand since 1992, in June 2019, they signed a strategic partnership agreement to accelerate the implementation of the UN's 2030 Agenda for Sustainable Development by further strengthening collaboration and coordination between the two organizations.5
Hundreds of Organizations Condemn WEF-UN Partnership
In a September 2019 open letter6 to UN Secretary-General Antonio Guterres, more than 400 civil society organizations and 40 international networks condemned the partnership, calling it a "corporate capture of global governance," and called on Guterres to end it.
"We are very concerned that this WEF-UN partnership agreement will de-legitimize the United Nations and provide transnational corporations preferential and deferential access to the UN System," the letter states.
"The UN system is already under a big threat from the US Government and those who question a democratic multilateral world. However, this corporatization of the UN poses a much deeper long-term threat, as it will reduce public support for the UN system in the South and the North.
It is our strong belief that this agreement is fundamentally at odds with the UN Charter and with intergovernmental decisions on sustainable development, the climate emergency, and the eradication of poverty and hunger.
This public-private partnership will permanently associate the UN with transnational corporations, some of whose core essential activities have caused or worsened the social and environmental crises that the planet faces. This is a form of corporate capture.
We know that agribusiness destroys biodiversity and sustainable and just food systems, oil and gas corporations endanger the world's climate, Big Pharma weakens access to essential medications, extractive corporations leave lasting damage to countries' ecologies and peoples, and arms manufacturers profit from local and regional wars as well as repression of social movements.
All these sectors are significant actors within the World Economic Forum. The provisions of the strategic partnership effectively provide that corporate leaders will become 'whisper advisors' to the heads of UN system departments, using their private access to advocate market-based profit-making 'solutions' to global problems while undermining real solutions embedded in public interest and transparent democratic procedures …
The UN's acceptance of this partnership agreement moves the world toward WEF's aspirations for multistakeholderism becoming the effective replacement of multilateralism.
WEF in their 2010 The Global Redesign Initiative argued that the first step toward their global governance vision is 'to redefine the international system as constituting a wider, multifaceted system of global cooperation in which intergovernmental legal frameworks and institutions are embedded as a core, but not the sole and sometimes not the most crucial, component.
The goal was to weaken the role of states in global decision-making and to elevate the role of a new set of 'stakeholders', turning our multilateral system into a multistakeholder system, in which companies are part of the governing mechanisms.
This would bring transnational corporations, selected civil society representatives, states and other non-state actors together to make global decisions, discarding or ignoring critical concerns around conflicts of interest, accountability and democracy."
The WEF Actively and Intentionally Undermines Democracy
In mid-January 2023, WEF members, Young Leaders alumni and other VIPs gathered in Davos, Switzerland, for their annual get-together. As reported by UnHerd columnist Thomas Fazi:7
"Alongside heads of state from all over the world, the CEOs of Amazon, BlackRock, JPMorgan Chase, Pfizer and Moderna will gather, as will the President of the European Commission, the IMF's Managing Director, the secretary general of Nato, the chiefs of the FBI and MI6, the publisher of The New York Times, and, of course, the event's infamous host — founder and chairman of the WEF, Klaus Schwab …
Founded in 1971 … the WEF is 'committed to improving the state of the world through public-private cooperation,' also known as multistakeholder governance.
The idea is that global decision-making should not be left to governments and nation-states — as in the post-war multilateralist framework enshrined in the United Nations — but should involve a whole range of non-government stakeholders: civil society bodies, academic experts, media personalities and, most important, multinational corporations …
While this may sound fairly benign, it neatly encapsulates the basic philosophy of globalism: insulating policy from democracy by transferring the decision-making process from the national and international level, where citizens theoretically are able to exercise some degree of influence over policy, to the supranational level, by placing a self-selected group of unelected, unaccountable 'stakeholders' — mainly corporations — in charge of global decisions concerning everything from energy and food production to the media and public health …
[There] is little doubt as to which interests Schwab's brainchild is actually promoting and empowering: the WEF is itself mostly funded by around 1,000 member companies … which include some of the world's biggest corporations in oil (Saudi Aramco, Shell, Chevron, BP), food (Unilever, The Coca-Cola Company, Nestlé), technology (Facebook, Google, Amazon, Microsoft, Apple) and pharmaceuticals (AstraZeneca, Pfizer, Moderna).
The composition of the WEF's board is also very revealing, including Laurence D. Fink, CEO of Blackrock, David M. Rubenstein, co-chairman of the Carlyle Group, and Mark Schneider, CEO of Nestlé.
There's no need to resort to conspiracy theories to posit that the WEF's agenda is much more likely to be tailored to suit the interests of its funders and board members — the world's ultra-wealthy and corporate elites — rather than to 'improving the state of the world,' as the organization claims."
The Goal of the 0.0001% Is to Rule Over the Rest of Us
Considering how proud Schwab is of his WEF members, one wonders why the attendance list to his annual Davos meeting is confidential. Whatever the reason for that might be, The Dossier recently acquired a copy of that list.8
Attendees at the exclusive January 2023 meeting included FBI director Chris Wray, MI6 chief Richard Moore, Secretary-General of NATO Jens Stoltenberg, the CEOs of Amazon, BlackRock and Pfizer (just to name a few), Gates Foundation executives and Cybernetics School director Genevieve Bell.
The publisher of The New York Times and CNN anchor Fareed Zakaria were also in attendance, as were Ukrainian President Volodymyr Zelensky and a long list of other presidents, prime ministers, ministers, senators, House representatives, commissioners, governors, mayors, bankers, royalty, officials from the UN and Red Cross, as well as military, customs and space agency officials.
The people gathering at this meeting, which is by invitation only, are among the ones deciding how the rest of us are going to live our lives, what rights we'll have, regardless of local constitutions, and how the world is to be run. The rest of us have no say in the matter.
As noted by UnHerd:10
"… there is no denying that the WEF wields immense power, which has cemented the rule of the transnational capitalist class to a degree never before seen in history.
But it is important to recognize that its power is simply a manifestation of the power of the 'superclass' it represents — a tiny group amounting, according to researchers,11 to no more than 6,000 or 7,000 people, or 0.0001% of the world's population, and yet more powerful than any social class the world has ever known …
It was only a matter of time before these aspiring cosmocrats developed a tool through which to fully exercise their dominion over the lower classes — and the WEF proved to be the perfect vehicle to do so."
The Globalist Cult
One insider has described the WEF's Davos gathering as "a Ponzi scheme" and "a cult," according to investigative journalist Michael Shellenberger, who wrote about the WEF in a January 15, 2023, Substack post.12 Apparently, the WEF is getting concerned about the fact that more and more people are starting to realize what they're actually up to.
"The World Economic Forum … is fighting back against conspiracy theorists who say it and its founder Klaus Schwab are seeking global domination through a 'great reset' aimed at stripping the masses of their private property, de-industrializing the economy, and making everybody eat bugs.
"Own nothing, be happy' — you might have heard the phrase,' wrote World Economic Forum (WEF) Managing Director Adrian Monck last August. 'It started life as a screenshot, culled from the Internet by an anonymous anti-semitic account on the image board 4chan …
But what Monck claimed was inaccurate. The phrase, 'Own nothing, be happy,' hadn't originated on 4chan; it originated on WEF's website."
Meat will be a special treat. Read more: https://t.co/RiQP6tpkfp pic.twitter.com/7BcRHgnWTx

— World Economic Forum (@wef) April 9, 2018
Indeed, for some reason, these globalists are continuously describing their plans in reports, white papers, on websites, in videos (such as the one above) and at meetings. Yet when people put the puzzle pieces together, they cry "conspiracy theory." The WEF's plan may rightly be called a conspiracy, but none of it is theoretical because they've described it in black and white. Schwab even published a book about The Great Reset that anyone can peruse.
In the final analysis, what they're really objecting to and are trying to draw attention away from is the fact that people don't like their plan and are calling it for what it is — a global coup d'état, a power grab by cultists who are unsuited to rule because their ideology13 is based on eugenics, depopulation and undemocratic top-down authoritarianism. Even in the face of collapsing birth rates, the WEF still insists overpopulation is a dire threat.14
Summary
So, to recap:
Billionaires Plotting How to Depopulate
As mentioned, one of the reasons I believe the 0.0001% are unfit to rule the world is because of their anti-human ideology. Billionaires have held many secret meetings over the years to figure out the best way to depopulate.
In a January 8, 2023, Substack article,17 the Naked Emperor describes the "Good Club," which first met in 2009. The meeting, which was funded and attended by Bill Gates, included George Soros, Warren Buffett, David Rockefeller, Ted Turner, Eli and Edythe Broad, Michael Bloomberg, Oprah Winfrey, Peter Peterson, Julian Robertson Jr., John and Tashia Morgridge, and Patty Stonesifer.
The meeting was held at the home of Sir Paul Nurse, then-president of the Rockefeller University. Nurse is now the director of the Francis Crick Institute, which was founded by a eugenicist. Crick's intention behind the Institute was to rehabilitate eugenics and "make it respectable again."
As recently as 1970, Crick stated that "evidence for the equality of different races did not really exist." That same year he also wrote that sterilization through bribery was the only answer to rid the world of people with poor genes. Depopulation and eugenics were also on the agenda for the 2009 "Good Club" meeting. Each participant was given 15 minutes to present their case, and while several issues were brought up, all agreed that depopulation was a priority.
They also agreed that whatever strategy was employed it needed to be independent of government, as government agencies were deemed unable to head off the looming disaster of overpopulation.
As noted by the Naked Emperor, "if all they were doing was planning on how to save the world, they would be transparent and encourage everyone to help them on their mission." But that's not what they're doing.
Is that because their ideas might be considered abominable by the average person? Sure, it's easy to decree that people of a certain class don't deserve to live — if you're not in that class!
Ask parents of autistic children if they would be willing to euthanize their kids, for example, and I'm sure you'd get an earful. Or ask people over 65 to submit to automatic euthanasia and see how many takers you get. People work their entire lives just to enjoy the leisure of that last decade or two.
The Rise of Anthropocene Anti-Humanism
The idea of billionaires plotting to get rid of other people, but not themselves or their own families, is repugnant to most. But it might be even worse than that. Remarkably, as reported by the Naked Emperor, we're now seeing the emergence of a cult that embraces the total annihilation of ALL mankind.
"The revolt against humanity is still new enough to appear outlandish, but it has already spread beyond the fringes of the intellectual world," he writes.18
"This is called Anthropocene anti-humanism, 'inspired by revulsion at humanity's destruction of the natural environment.' For all we know, these billionaires could be part of this cult and influencing policies based on these views.
In the 21st century, Anthropocene anti-humanism offers a much more radical response to a much deeper ecological crisis. It says that our self-destruction is now inevitable, and that we should welcome it as a sentence we have justly passed on ourselves.
Some anti-humanist thinkers look forward to the extinction of our species, while others predict that even if some people survive the coming environmental apocalypse, civilization as a whole is doomed. Like all truly radical movements, Anthropocene anti-humanism begins not with a political program but with a philosophical idea …"
Is Anti-Humanism or Transhumanism Driving the Globalists?
Do the 0.0001% ascribe to anthropocene anti-humanism, or are they transhumanists at heart? As explained by the Naked Emperor:
"Transhumanism, by contrast, glorifies some of the very things that anti-humanism decries — scientific and technological progress, the supremacy of reason. But it believes that the only way forward for humanity is to create new forms of intelligent life that will no longer be Homo sapiens.
Some transhumanists believe that genetic engineering and nanotechnology will allow us to alter our brains and bodies so profoundly that we will escape human limitations such as mortality and confinement to a physical body.
Others await … the invention of artificial intelligence infinitely superior to our own. These beings will demote humanity to the rank we assign to animals — unless they decide that their goals are better served by wiping us out completely."
Judging by the planned direction the WEF is taking us, I'm convinced transhumanist philosophy underpins its political agendas. Schwab also has not been shy about the WEF's transhumanist ideals.
He even coined the term "Fourth Industrial Revolution" to describe the planned merger of man with machine. Such a merger, in turn, allows for the direct control of each individual from the outside. Just like you can remote control a computer, so would you be able to remote control an individual whose brain was connected to the cloud.
Technocracy Is Here
A prescient warning from 1975. We now live in this abyss! pic.twitter.com/NLOU8KFh2r

— Robert F. Kennedy Jr (@RobertKennedyJr) January 9, 2023
In 1975, Sen. Frank Church (video above) warned that the technological advancements of that time already posed a direct threat to the citizens of the United States, and that were a dictator to infiltrate or take control of the country, there would be no escape from the tyranny.
Fast-forward to today, and his words are more than a little prescient. As noted by Robert F. Kennedy Jr., "We now live in this abyss!"19 The question is, how do we get out of this abyss, which was intentionally created for us by the 0.0001%?
I believe the only way out is by rejecting surveillance technologies such as Google and Google-based devices while simultaneously building parallel economies, industries and communities that operate outside of their control system. None of that is easy, but we have no other choice. If you accept their system, you accept enslavement.
*
Note to readers: Please click the share buttons above. Follow us on Instagram and Twitter and subscribe to our Telegram Channel. Feel free to repost and share widely Global Research articles.
Notes
3, 4 Tfig Global News July 18, 2022
6 Open Letter to Antonio Guterres September 2019
7, 10 Unherd January 16, 2023
8 Dossier Substack January 9, 2023
9, 11 Carnegie, Superclass: The Global Power Elite and the World They Are Making
12 Public Substack January 15, 2023
13, 17, 18 Naked Emperor Substack January 8, 2023
16 Twitter Ghebreyesus November 15, 2019
19 Twitter Robert F. Kennedy Jr January 9, 2023
The original source of this article is Mercola Copyright © Dr. Joseph Mercola, Mercola, 2023
---
Español aquí
Cabal globalista se reúne de nuevo para prepararse para la dominación mundial. La toma de control de la ONU por parte del FEM
Entre los asistentes a la reunión exclusiva del Foro Económico Mundial (WEF) de enero de 2023 en Davos, Suiza, se encontraban el director del FBI Chris Wray, el jefe del MI6 Richard Moore, el secretario general de la OTAN Jens Stoltenberg, los directores ejecutivos de Amazon, BlackRock y Pfizer (solo por nombrar algunos pocos), los ejecutivos de la Fundación Gates y la directora de la Cybernetics School, Genevieve Bell
El editor de The New York Times y el presentador de CNN Fareed Zakaria también asistieron, al igual que el presidente ucraniano Zelensky y una larga lista de otros presidentes, primeros ministros, ministros, senadores, representantes de la Cámara, comisionados, gobernadores, alcaldes, banqueros, miembros de la realeza, funcionarios de la ONU y la Cruz Roja, así como funcionarios militares, de aduanas y de agencias espaciales
Las personas que se reúnen en esta reunión, que es solo por invitación, se encuentran entre las que deciden cómo el resto de nosotros vamos a vivir nuestras vidas, qué derechos tendremos independientemente de las constituciones locales y cómo se manejará el mundo.
El WEF trabaja en estrecha colaboración con la Organización Mundial de la Salud y las Naciones Unidas para garantizar que se cumplan los objetivos de desarrollo sostenible de la ONU. Los objetivos de desarrollo sostenible son la base sobre la que se construye la agenda del Gran Reinicio del Foro Económico Mundial
El WEF también está ayudando a la OMS a tomar el poder a través de su tratado pandémico. Si se promulga, los estados miembros entregarán su soberanía a la OMS, convirtiéndola en un órgano de gobierno mundial de facto.
Vea el vídeo de arriba
Como lo revisó el comediante Jimmy Dore de "The Jimmy Dore Show" en el video de arriba, la Organización Mundial de la Salud comenzó a redactar un tratado global contra la pandemia a mediados de 2022, que le otorgaría el poder exclusivo de tomar decisiones relacionadas con la bioseguridad global, incluidas, entre otras, no se limita a la implementación de un pasaporte de vacunas global/identidad digital, vacunas obligatorias, restricciones de viaje y atención médica estandarizada.
Como señaló Dore, "entonces pueden cerrar tu cuenta bancaria cuando haces algo que no les gusta, como protestar". De hecho, en 2022, el gobierno canadiense confiscó las cuentas bancarias de las personas que habían donado dinero al convoy de camioneros, y esto fue básicamente un anticipo del tipo de poder que tendría la OMS.
Los miembros del tratado renunciarán a su soberanía
Incluso si centralizar la bioseguridad fuera una buena idea, que no lo es, la OMS no estaría en la parte superior de la lista de organizaciones encargadas de esta tarea. En su monólogo, Dore cita mi artículo de mayo de 2022, " Lo que necesita saber sobre el Tratado de Pandemia de la OMS ", que fue republicado por The Defender: 1
"Como solo un ejemplo, la OMS no admitió públicamente que el SARS-CoV-2 estaba en el aire hasta fines de diciembre de 2021, pero los científicos sabían que el virus estaba en el aire semanas después de que se declarara la pandemia. La OMS también ignoró los primeros consejos sobre la transmisión aérea.
Entonces, parece claro que el esfuerzo por entregar ahora más poder a la OMS se trata de algo más que ellos sean los más calificados para tomar decisiones de salud que beneficien y protejan a todos. Con este tratado en vigor, todas las naciones miembros estarán sujetas a los dictados de la OMS… incluso si la gente ha rechazado tales planes utilizando procesos democráticos locales".
En resumen, cada país que firme el tratado de pandemia de la OMS renunciará voluntariamente a su soberanía y la autonomía corporal de todos sus ciudadanos. Para empeorar las cosas, ni siquiera se nos dice exactamente quiénes son las personas que tomarán esta decisión, por lo que nosotros, las personas, no sabemos a quién contactar para que se escuchen nuestras voces.
Cómo la cábala globalista se infiltró en los gobiernos de todo el mundo
Todo esto está sucediendo fuera del proceso democrático, y eso es intencional. La camarilla globalista se dio cuenta de que no podía convencer a miles de millones de personas para que renunciaran a sus derechos y libertades. En cambio, se enfocaron en instalar a su propia gente en puestos clave en todo el mundo, para que luego pudieran tomar decisiones que beneficiaran al culto.
Un actor clave en este plan de adquisición global es el Foro Económico Mundial (WEF, por sus siglas en inglés), fundado en 1971. Un gran número de los globalistas instalados son graduados del Foro de Jóvenes Líderes Globales del WEF, 2 (anteriormente la escuela Global Leaders for Tomorrow 3 ) , donde son adoctrinados en ideales tecnocráticos como el transhumanismo que, se den cuenta o no, no es más que eugenesia renombrada.
El transhumanismo, como la eugenesia, se trata de crear una raza superior; en este caso, una raza aumentada por ya través de la tecnología en lugar de la cría selectiva. A fines de 2022, la comunidad de Jóvenes Líderes Globales tenía más de 1400 miembros de 120 países y, además de líderes políticos, los ex alumnos también incluyen "innovadores cívicos y comerciales, empresarios, pioneros de la tecnología, educadores, activistas, artistas [y] periodistas."
El foro de Jóvenes Líderes Globales no es la única incubadora de tecnócratas, pero es una de las más reconocidas. El fundador de WEF, Klaus Schwab, se ha jactado abiertamente de la cantidad de ex alumnos de Young Global Leaders que se han infiltrado con éxito en gobiernos de todo el mundo, incluido Canadá, donde más del 80% del gabinete del primer ministro Justin Trudeau son ex alumnos de WEF.
El propio Trudeau también es un graduado de Young Global Leader. En una entrevista de 2017 (video a continuación), Schwab declaró: 4
"Esta noción de integrar a los líderes jóvenes es parte del Foro Económico Mundial desde hace muchos años… De lo que estamos realmente orgullosos ahora es de la generación de líderes jóvenes como el Primer Ministro Trudeau… Ingresamos a los gabinetes. Estuve en una recepción para el Primer Ministro Trudeau y sé que la mitad de su gabinete, o incluso más de la mitad de su gabinete, son en realidad Jóvenes Líderes Globales".
Vea el vídeo de arriba
La toma de control de la ONU por parte del WEF
La escuela Young Global Leaders se fundó en 1992, el mismo año en que se presentó la Agenda 21. Esto tiene sentido, ya que son parte del mismo plan. La Agenda 21 es la agenda de acción real para los planes de desarrollo sostenible de las Naciones Unidas, mientras que el WEF capacita a propagandistas e implementadores.
Si bien la ONU y el Foro Económico Mundial han trabajado claramente de la mano desde 1992, en junio de 2019 firmaron un acuerdo de asociación estratégica para acelerar la implementación de la Agenda 2030 para el Desarrollo Sostenible de la ONU mediante el fortalecimiento de la colaboración y la coordinación entre las dos organizaciones. 5
Cientos de organizaciones condenan la asociación FEM-ONU
En una carta abierta de septiembre de 2019 6 al secretario general de la ONU, Antonio Guterres, más de 400 organizaciones de la sociedad civil y 40 redes internacionales condenaron la asociación, calificándola de "captura corporativa de la gobernanza global", y pidieron a Guterres que la pusiera fin.
"Estamos muy preocupados de que este acuerdo de asociación WEF-ONU deslegitime a las Naciones Unidas y brinde a las corporaciones transnacionales un acceso preferencial y deferente al sistema de la ONU", dice la carta.
"El sistema de la ONU ya está bajo una gran amenaza por parte del gobierno de los Estados Unidos y aquellos que cuestionan un mundo multilateral democrático. Sin embargo, esta corporativización de la ONU plantea una amenaza a largo plazo mucho más profunda, ya que reducirá el apoyo público al sistema de la ONU en el Sur y el Norte.
Creemos firmemente que este acuerdo está fundamentalmente en desacuerdo con la Carta de la ONU y con las decisiones intergubernamentales sobre el desarrollo sostenible, la emergencia climática y la erradicación de la pobreza y el hambre.
Esta asociación público-privada asociará permanentemente a la ONU con las empresas transnacionales, algunas de cuyas actividades esenciales centrales han causado o empeorado las crisis sociales y ambientales que enfrenta el planeta. Esta es una forma de captura corporativa.
Sabemos que la agroindustria destruye la biodiversidad y los sistemas alimentarios sostenibles y justos, las corporaciones de petróleo y gas ponen en peligro el clima mundial, las grandes farmacéuticas debilitan el acceso a los medicamentos esenciales, las corporaciones extractivas dejan daños duraderos en las ecologías y los pueblos de los países, y los fabricantes de armas se benefician de los beneficios locales y regionales. guerras así como la represión de los movimientos sociales.
Todos estos sectores son actores importantes dentro del Foro Económico Mundial. Las disposiciones de la asociación estratégica estipulan efectivamente que los líderes corporativos se convertirán en 'asesores secretos' de los jefes de los departamentos del sistema de la ONU, utilizando su acceso privado para promover 'soluciones' basadas en el mercado y lucrativas para los problemas globales, al tiempo que socavan las soluciones reales integradas en las políticas públicas. interés y procedimientos democráticos transparentes…
La aceptación de este acuerdo de asociación por parte de la ONU mueve al mundo hacia las aspiraciones de WEF de que la participación de múltiples partes interesadas se convierta en el reemplazo efectivo del multilateralismo.
WEF en su The Global Redesign Initiative de 2010 argumentó que el primer paso hacia su visión de gobernanza global es 'redefinir el sistema internacional como un sistema más amplio y multifacético de cooperación global en el que los marcos e instituciones legales intergubernamentales están integrados como un núcleo, pero no el único componente, ya veces no el más crucial.
El objetivo era debilitar el papel de los estados en la toma de decisiones globales y elevar el papel de un nuevo conjunto de "partes interesadas", convirtiendo nuestro sistema multilateral en un sistema de múltiples partes interesadas, en el que las empresas son parte de los mecanismos de gobierno.
Esto reuniría a corporaciones transnacionales, representantes seleccionados de la sociedad civil, estados y otros actores no estatales para tomar decisiones globales, descartando o ignorando preocupaciones críticas sobre conflictos de intereses, rendición de cuentas y democracia".
Vea el vídeo de arriba
A mediados de enero de 2023, los miembros del WEF, los ex alumnos de Young Leaders y otros VIP se reunieron en Davos, Suiza, para su encuentro anual. Según lo informado por el columnista de UnHerd Thomas Fazi: 7
"Junto a los jefes de Estado de todo el mundo se reunirán los directores ejecutivos de Amazon, BlackRock, JPMorgan Chase, Pfizer y Moderna, así como el presidente de la Comisión Europea, el director gerente del FMI, el secretario general de la OTAN, los jefes de el FBI y el MI6, el editor de The New York Times y, por supuesto, el infame anfitrión del evento, el fundador y presidente del WEF, Klaus Schwab…
Fundado en 1971… el WEF está 'comprometido a mejorar el estado del mundo a través de la cooperación público-privada', también conocida como gobernanza de múltiples partes interesadas.
La idea es que la toma de decisiones globales no debe dejarse en manos de los gobiernos y los estados-nación —como en el marco multilateralista de la posguerra consagrado en las Naciones Unidas— sino que debe involucrar a toda una gama de partes interesadas no gubernamentales: organismos de la sociedad civil, académicos expertos, personalidades de los medios y, lo más importante, corporaciones multinacionales…
Si bien esto puede sonar bastante benigno, resume perfectamente la filosofía básica del globalismo: aislar la política de la democracia mediante la transferencia del proceso de toma de decisiones desde el nivel nacional e internacional, donde los ciudadanos teóricamente pueden ejercer cierto grado de influencia sobre la política, al a nivel supranacional, colocando a un grupo autoseleccionado de "partes interesadas" no elegidas y que no rinden cuentas (principalmente corporaciones) a cargo de las decisiones globales relacionadas con todo, desde la producción de energía y alimentos hasta los medios de comunicación y la salud pública…
[Hay] pocas dudas sobre qué intereses la creación de Schwab realmente está promoviendo y empoderando: el WEF en sí mismo está financiado principalmente por alrededor de 1,000 compañías miembro… que incluyen algunas de las corporaciones petroleras más grandes del mundo (Saudi Aramco, Shell, Chevron, BP) , alimentación (Unilever, The Coca-Cola Company, Nestlé), tecnología (Facebook, Google, Amazon, Microsoft, Apple) y farmacéutica (AstraZeneca, Pfizer, Moderna).
La composición del directorio del WEF también es muy reveladora, e incluye a Laurence D. Fink, director ejecutivo de Blackrock, David M. Rubenstein, copresidente de Carlyle Group, y Mark Schneider, director ejecutivo de Nestlé.
No hay necesidad de recurrir a teorías de conspiración para postular que es mucho más probable que la agenda del WEF se adapte a los intereses de sus patrocinadores y miembros de la junta (las élites corporativas y ultra ricas del mundo) en lugar de "mejorar el estado de la economía". mundo', como afirma la organización".
El objetivo del 0.0001% es gobernar sobre el resto de nosotros
Teniendo en cuenta lo orgulloso que está Schwab de sus miembros del WEF, uno se pregunta por qué la lista de asistentes a su reunión anual de Davos es confidencial. Cualquiera que sea la razón, The Dossier adquirió recientemente una copia de esa lista. 8
Los asistentes a la reunión exclusiva de enero de 2023 incluyeron al director del FBI, Chris Wray, el jefe del MI6, Richard Moore, el secretario general de la OTAN, Jens Stoltenberg, los directores ejecutivos de Amazon, BlackRock y Pfizer (solo por nombrar algunos), los ejecutivos de la Fundación Gates y la directora de la Escuela de Cibernética, Genevieve. Campana.
El editor de The New York Times y el presentador de CNN Fareed Zakaria también asistieron, al igual que el presidente ucraniano Volodymyr Zelensky y una larga lista de otros presidentes, primeros ministros, ministros, senadores, representantes de la Cámara, comisionados, gobernadores, alcaldes, banqueros, miembros de la realeza. , funcionarios de la ONU y de la Cruz Roja, así como funcionarios militares, de aduanas y de agencias espaciales.
Las personas que se reúnen en esta reunión, que es solo por invitación, están entre las que deciden cómo el resto de nosotros vamos a vivir nuestras vidas, qué derechos tendremos, independientemente de las constituciones locales, y cómo se manejará el mundo. . El resto de nosotros no tenemos nada que decir en el asunto.
Como señaló UnHerd: 10
"… no se puede negar que el WEF ejerce un poder inmenso, que ha cimentado el dominio de la clase capitalista transnacional en un grado nunca antes visto en la historia.
Pero es importante reconocer que su poder es simplemente una manifestación del poder de la 'superclase' que representa: un grupo diminuto que asciende, según los investigadores, a no más de 6000 o 7000 personas, o el 0,0001 % de la población mundial. , y sin embargo, más poderoso que cualquier clase social que el mundo haya conocido…
Era solo cuestión de tiempo antes de que estos aspirantes a cosmócratas desarrollaran una herramienta a través de la cual ejercer plenamente su dominio sobre las clases bajas, y el WEF demostró ser el vehículo perfecto para hacerlo".
El culto globalista
Una fuente describió la reunión de Davos del WEF como "un esquema Ponzi" y "un culto", según el periodista de investigación Michael Shellenberger, quien escribió sobre el WEF en una publicación de Substack del 15 de enero de 2023. 12 Aparentemente, el WEF está preocupado por el hecho de que más y más personas comienzan a darse cuenta de lo que realmente están haciendo.
"El Foro Económico Mundial… está luchando contra los teóricos de la conspiración que dicen que y su fundador Klaus Schwab están buscando la dominación global a través de un 'gran reinicio' destinado a despojar a las masas de su propiedad privada, desindustrializar la economía y hacer que todos coman insectos.
'No poseas nada, sé feliz': es posible que hayas escuchado la frase', escribió el director gerente del Foro Económico Mundial (FEM), Adrian Monck, en agosto pasado. "Comenzó como una captura de pantalla, extraída de Internet por una cuenta antisemita anónima en el tablón de imágenes 4chan…
Pero lo que decía Monck era inexacto. La frase, 'No tengas nada, sé feliz', no se originó en 4chan; se originó en el sitio web de WEF".
La carne será un regalo especial. Leer más: https://t.co/RiQP6tpkfp pic.twitter.com/7BcRHgnWTx

— Foro Económico Mundial (@wef) 9 de abril de 2018
De hecho, por alguna razón, estos globalistas describen continuamente sus planes en informes, libros blancos, sitios web, videos (como el de arriba) y en reuniones. Sin embargo, cuando las personas juntan las piezas del rompecabezas, gritan "teoría de la conspiración". El plan del WEF puede llamarse con razón una conspiración, pero nada de eso es teórico porque lo han descrito en blanco y negro. Schwab incluso publicó un libro sobre The Great Reset que cualquiera puede leer detenidamente.
En última instancia, lo que realmente objetan y lo que intentan desviar la atención es el hecho de que a la gente no le gusta su plan y lo llama por lo que es: un golpe de estado global, una toma de poder. por cultistas que no son aptos para gobernar porque su ideología 13 se basa en la eugenesia, la despoblación y el autoritarismo de arriba hacia abajo antidemocrático. Incluso ante el colapso de las tasas de natalidad, el WEF aún insiste en que la superpoblación es una amenaza grave. 14
Resumen
Entonces, para recapitular:
Multimillonarios tramando cómo despoblar
Como se mencionó, una de las razones por las que creo que el 0.0001% no es apto para gobernar el mundo es por su ideología antihumana. Los multimillonarios han celebrado muchas reuniones secretas a lo largo de los años para descubrir la mejor manera de despoblar.
En un artículo de Substack del 8 de enero de 2023, 17 The Naked Emperor describe el "Good Club", que se reunió por primera vez en 2009. La reunión, que fue financiada y a la que asistió Bill Gates, incluyó a George Soros, Warren Buffett, David Rockefeller, Ted Turner, Eli y Edythe Broad, Michael Bloomberg, Oprah Winfrey, Peter Peterson, Julian Robertson Jr., John y Tashia Morgridge y Patty Stonesifer.
La reunión se llevó a cabo en la casa de Sir Paul Nurse, entonces presidente de la Universidad Rockefeller. Nurse es ahora la directora del Instituto Francis Crick, que fue fundado por un eugenista. La intención de Crick detrás del Instituto era rehabilitar la eugenesia y "hacerla respetable de nuevo".
Recientemente, en 1970, Crick afirmó que "realmente no existía evidencia de la igualdad de las diferentes razas". Ese mismo año también escribió que la esterilización a través del soborno era la única respuesta para librar al mundo de personas con genes pobres. La despoblación y la eugenesia también estuvieron en la agenda de la reunión del "Good Club" de 2009. Cada participante tuvo 15 minutos para presentar su caso y, aunque se plantearon varios temas, todos coincidieron en que la despoblación era una prioridad.
También acordaron que cualquier estrategia que se empleara debía ser independiente del gobierno, ya que se consideraba que las agencias gubernamentales no podían evitar el desastre inminente de la superpoblación.
Como señaló el Emperador Desnudo, "si todo lo que estuvieran haciendo fuera planeando cómo salvar el mundo, serían transparentes y alentarían a todos a ayudarlos en su misión". Pero eso no es lo que están haciendo.
¿Es porque sus ideas pueden ser consideradas abominables por la persona promedio? Claro, es fácil decretar que las personas de cierta clase no merecen vivir, ¡si no estás en esa clase!
Pregunte a los padres de niños autistas si estarían dispuestos a aplicar la eutanasia a sus hijos, por ejemplo, y estoy seguro de que obtendrá una buena respuesta. O pida a las personas mayores de 65 años que se sometan a la eutanasia automática y vea cuántos interesados ​​obtiene. La gente trabaja toda su vida solo para disfrutar del ocio de la última década o dos.
El surgimiento del antihumanismo antropoceno
La idea de multimillonarios conspirando para deshacerse de otras personas, pero no de ellos mismos ni de sus propias familias, es repugnante para la mayoría. Pero podría ser incluso peor que eso. Sorprendentemente, según lo informado por el Emperador Desnudo, ahora estamos viendo el surgimiento de un culto que abraza la aniquilación total de TODA la humanidad.
"La revuelta contra la humanidad todavía es lo suficientemente nueva como para parecer extravagante, pero ya se ha extendido más allá de los límites del mundo intelectual", escribe. 18
"Esto se llama antihumanismo del Antropoceno, 'inspirado por la repugnancia ante la destrucción del medio ambiente natural por parte de la humanidad'. Por lo que sabemos, estos multimillonarios podrían ser parte de este culto e influir en las políticas basadas en estos puntos de vista.
En el siglo XXI, el antihumanismo del Antropoceno ofrece una respuesta mucho más radical a una crisis ecológica mucho más profunda. Dice que nuestra autodestrucción ahora es inevitable, y que deberíamos darle la bienvenida como una sentencia que justamente nos hemos dictado a nosotros mismos.
Algunos pensadores antihumanistas esperan la extinción de nuestra especie, mientras que otros predicen que incluso si algunas personas sobreviven al apocalipsis ambiental que se avecina, la civilización en su conjunto está condenada. Como todos los movimientos verdaderamente radicales, el antihumanismo del Antropoceno comienza no con un programa político sino con una idea filosófica…"
¿Está el antihumanismo o el transhumanismo impulsando a los globalistas?
¿El 0.0001% se adscribe al antihumanismo antropoceno, o son transhumanistas de corazón? Como explica el Emperador Desnudo:
"El transhumanismo, por el contrario, glorifica algunas de las mismas cosas que el antihumanismo condena: el progreso científico y tecnológico, la supremacía de la razón. Pero cree que el único camino a seguir para la humanidad es crear nuevas formas de vida inteligente que ya no sean Homo sapiens.
Algunos transhumanistas creen que la ingeniería genética y la nanotecnología nos permitirán alterar nuestros cerebros y cuerpos tan profundamente que escaparemos de las limitaciones humanas, como la mortalidad y el confinamiento en un cuerpo físico.
Otros esperan… la invención de la inteligencia artificial infinitamente superior a la nuestra. Estos seres degradarán a la humanidad al rango que asignamos a los animales, a menos que decidan que sus objetivos se cumplen mejor aniquilándonos por completo".
A juzgar por la dirección planificada que nos está llevando el WEF, estoy convencido de que la filosofía transhumanista sustenta sus agendas políticas. Schwab tampoco ha sido tímido con los ideales transhumanistas del WEF.
Incluso acuñó el término "Cuarta Revolución Industrial" para describir la fusión planificada del hombre con la máquina. Tal fusión, a su vez, permite el control directo de cada individuo desde el exterior. Al igual que puede controlar remotamente una computadora, también podría controlar remotamente a una persona cuyo cerebro estaba conectado a la nube.
La tecnocracia está aquí
Una advertencia profética de 1975. ¡Ahora vivimos en este abismo! pic.twitter.com/NLOU8KFh2r

— Robert F. Kennedy Jr (@RobertKennedyJr) 9 de enero de 2023
En 1975, el Senador Frank Church (video arriba) advirtió que los avances tecnológicos de esa época ya representaban una amenaza directa para los ciudadanos de los Estados Unidos, y que si un dictador se infiltrara o tomara el control del país, no habría escapar de la tiranía.
Avance rápido hasta hoy, y sus palabras son más que un poco proféticas. Como señaló Robert F. Kennedy Jr., "¡Ahora vivimos en este abismo!" 19 La pregunta es, ¿cómo salimos de este abismo, que fue creado intencionalmente para nosotros por el 0.0001%?
Creo que la única salida es rechazar las tecnologías de vigilancia como Google y los dispositivos basados ​​en Google y, al mismo tiempo, construir economías, industrias y comunidades paralelas que operen fuera de su sistema de control. Nada de eso es fácil, pero no tenemos otra opción. Si aceptas su sistema, aceptas la esclavitud.
*
Nota para los lectores: haga clic en los botones de compartir de arriba. Síguenos en Instagram y Twitter y suscríbete a nuestro Canal de Telegram. Siéntase libre de volver a publicar y compartir ampliamente los artículos de Global Research.
notas
1 El defensor 10 de mayo de 2022
3, 4 Noticias globales de Tfig 18 de julio de 2022
5 FIAN.org 16 de enero de 2020
6 Carta Abierta a Antonio Guterres Septiembre 2019
7, 10 Unherd 16 de enero de 2023
8 Subpila de expedientes 9 de enero de 2023
9, 11 Carnegie, Superclass: The Global Power Elite y el mundo que están haciendo
12 subpila pública 15 de enero de 2023
13, 17, 18 Emperador desnudo Subpila 8 de enero de 2023
14 Twitter WEF 5 de abril de 2018
16 Gorjeo Ghebreyesus 15 de noviembre de 2019
19 Twitter Robert F. Kennedy Jr 9 de enero de 2023
La fuente original de este artículo es Mercola Copyright © Dr. Joseph Mercola , Mercola , 2023
shared from https://www.globalresearch.ca/globalist-cabal-meets-again-prepare-world-domination