Discussion starts at 14:20 timestamp for the actual information. The room waited for Dr. Tam and other Canadian Health Officials to show up, but they did not attend.

Small clip of the start of the Q & A
Where is Dr. Tam and the rest of our Public Health Officials in Canada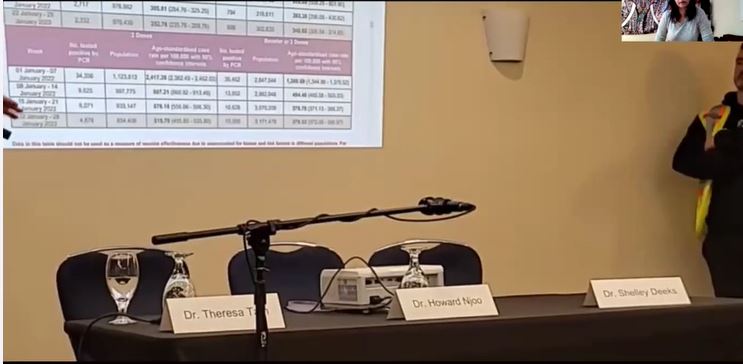 This was another video, same event.
---
OUR MISSION
Our appeal is to both the Coronavirus-19 (C-19) vaccinated and the unvaccinated, to stand together for Freedom and Choice, and to demand of our elected officials to take steps to bring a quick end to the so-called 'C-19 health Emergencies' along with their unlawful 'Mandates'.
We assert that The Supreme Law of Canada is The Constitution (Sect 52 of the Constitution Act 1982) and not Federal or Provincial edicts, laws or regulations.
The Provincial Governments by their various draconian measures are violating the Charter (the Supreme Law of Canada) including:
Section 2, freedom of assembly, association, religion, conscience, & expression; and
Section 6, the right of mobility & to pursue a livelihood anywhere in Canada; and
Section 7, the right to life, liberty & the security of the person; and
Section 15, the right of equality before the law.
Such a multitude of violations of rights and freedoms can no longer be justified. It is now clear, many other jurisdictions, both in the USA, and around the world are "managing the C-19 crisis" in a manner that is both highly effective, and that does not require continued violations of the rights and freedoms of their citizens.
Embrace Freedom and Choice. End the Emergency.
Reject forced C-19 vaccinations of our children and youth.
Restore the sacrosanct Doctor-Patient Relationship by allowing Medical Doctors to prescribe to their patient, proven and safe medications for C-19 (like Ivermectin).
Embrace 'Natural Immunity' as providing broad & lasting immunity against C-19.
END the Public Health Emergency.
Shared from one of the main organizations that is working with the Canadian Truckers
https://tbof.ca/