Digital New Brunswick is a strategy that will help improve the way the government serves New Brunswickers. The strategy proposes placing citizens and businesses in New Brunswick at the centre of everything the provincial government does, while leveraging digital technology as an enabler for effective and efficient service delivery.
Digital technologies are electronic tools, systems, devices and resources that generate, store or process data. These include social media, cloud computing, interoperable systems, online games and applications, multimedia, productivity applications, and mobile devices.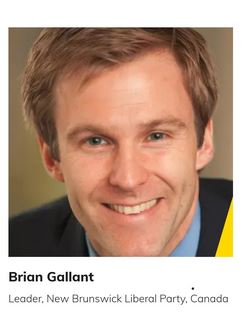 Brian Gallant
Could New Brunswick be the pilot for North America, due to Brian Gallant being a member of the WEF's Young Global Leaders?
---
Space Canada founding Chief Executive Officer.
Former Premier of New Brunswick. Liberal Party, Canada
This is the goal! What you get….
The vision is for New Brunswick to become the first digital society in North America.
The initiatives in Digital NB are grouped under seven main areas that address New Brunswick's critical needs:
Re-imagined services and programs: Re-designed government services and programs that put citizens and businesses at the centre.
People-powered: Skills, culture and experience within the workforce that will enable the digital transformation.
Information as a game-changer: Increased access and use of information within GNB and the public.
Business and technology modernization: Modernization of business processes, standards, and technology infrastructure and software applications.
Enterprise Risk Management (ERM): Risk/opportunity balanced approach to adopting innovative business solutions and realizing outcomes.
CyberSafe: Cyber security, innovation and growth that continually meets the information security needs of the Province while supporting economic growth.
Success through leadership: Governance and strong leadership to drive the transformation to a Digital Society.
This is not a technology plan. This is a transformation plan. The scale and pace of the initiatives required represent a fundamental change to people skills, business processes, technology, culture and use of information. By taking this approach, GNB will need to be prepared for a substantial reshaping of business and culture. Success will be demonstrated through the ability to provide citizen-responsive services, become more efficient and be technologically equipped to face the significant challenges that exist now and in the future.
The Digital New Brunswick strategy was prepared through a large collaborative approach involving employees from Parts 1 to 4 of the public service, academia and private sector stakeholders, students and citizens. The initiatives collectively developed are critical to New Brunswick's ability to manage current and future realities.
See the NEWS RELEASE BELOW THESE DOCUMENTS
See More:
---
News Release
Treasury Board
Digital strategy envisions redesigned government services
27 April 2018
MONCTON (GNB) – A new five-year strategy to position New Brunswick as a truly digital society was unveiled today in Moncton.
"The strategy places New Brunswick's people and businesses at the centre of everything the provincial government does," said Treasury Board President Roger Melanson. "It will allow New Brunswickers to access their information and government services from any device, anywhere, at any time."
Digital New Brunswick is a five-year plan aimed at increasing government transparency and accountability. It contains initiatives to help manage the province's challenges, such as an aging population, while embracing new digital technologies for effective and efficient delivery of services.
The strategy aims to improve government service delivery across several departments. Specific initiatives include direct access to personal health information, a single point of access to early childhood and public school services, a secure digital ID for residents, and the creation of an integrated bundle of services for businesses to process registration and licensing requirements.
These initiatives are grouped into seven main areas:
Redesigning services and programs to put residents and businesses at the centre.
Ensuring skills and experience exist within the workforce to enable the digital transformation.
Increasing public access to government information.
Modernizing business processes, standards, technology infrastructure and software.
Adopting innovative business solutions with an approach that balances risk and opportunity.
Addressing the cybersecurity needs of the province while supporting economic growth.
Governance and leadership to drive the transformation to a digital society.
The digital strategy began as a collaboration between the information technology sector and the provincial government.
"A solid strategy positions New Brunswick to be a leader in the digital transformation of a society," said Ed McGinley, CEO of TechImpact. "People have embraced new technologies in their lives. They expect the convenience of these devices to be leveraged in the way they interact with their government. They want secure access to services on any device at any time, from anywhere. Redesigned, digitized government services will lower the cost of service delivery and increase the efficient access and use of information."
More information about the Digital New Brunswick strategy is available online.
[it's not like they were hiding it from you]… Shared from https://www2.gnb.ca/content/gnb/en/news/news_release.2018.04.0449.html
Also shared from http://www.gnb.ca/digital
Digital ID and China Social Credit Score System. This is coming to Canada. Watch in full to see the details.