This was hard to watch. It brought tears to my eyes as the realization of this is what life in Canada is like is 2021.
To all the brave and strong individuals who made such an easy choice but are now faced with the most arduous and immoral consequence – We stand with you. Your actions speaks volumes and are not going unseen. You are the embodiment of strength , courage , honesty and integrity.
"PURE BLOOD" Stay Strong. You are on the right side of History.
Shared from, and leave your comments at https://www.youtube.com/watch?v=maYOIA5wldA
---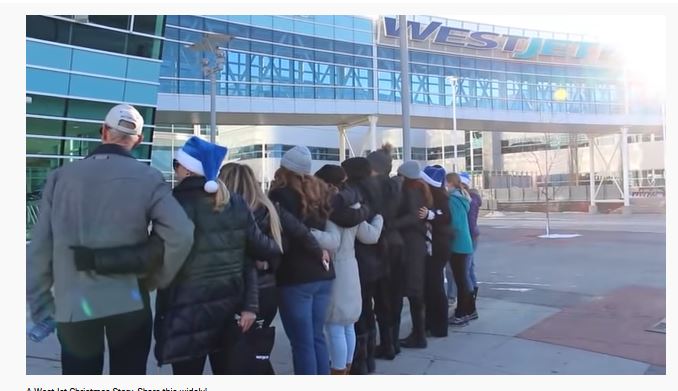 EXCLUSIVE: Ex-pilot Behind WestJet Staff Video
Fighting For Co-Workers Rights
He explained his sleepless nights started in early September when WestJet announced their vaccination policy calling all employees to be fully vaccinated against COVID-19 by October 30 or face termination.
The former WestJet pilot behind the release of a staff-made Christmas video showing ex-employees returning their gear to headquarters on Monday said he's hoping to change peoples' "hearts and minds."
The pilot, who organized the making of the staff Christmas video, spoke exclusively with the Western Standard on the condition of anonymity for fear of legal reprisal from his former employer.
"Before this last year, this was the best job I have ever had," said the pilot.
"For me, it was the people who made it great. Everyone seemed to share the same values and people would do things each day to make someone else's day better."
He explained his sleepless nights started in early September when WestJet announced their vaccination policy calling all employees to be fully vaccinated against COVID-19 by October 30 or face termination.
"These mandates really shook me up," said the pilot.
On November 1, WestJet announced it had suspended nearly 300 employees for failing to meet the company's mandatory vaccine policy. The air carrier confirmed the suspended employees represented less than 4% of its 7,300 active employees at that time.
"My heart breaks for my co-workers and for those who have gone through with the shots against their will," said the unnamed pilot, referencing one friend in particular.
"These shots go against everything he stands for and it was a crushing blow for him to have to cave," who did so to "stay employed."
"He has a family to provide for and doesn't have the financial freedom to walk away from his job."
The pilot highlighted three primary reasons he's making his stand against WestJet's policy on forced vaccinations.
"I'm not convinced these vaccines are safe, I'm not convinced they are effective and I don't believe it's our only way forward," he said.
"If I'm wrong about this, then my losses will be my own. If I am right, I think we really need to hit the brakes on this and have a closer look at things."
The pilot, with the help of one of the organizers from Calgary Freedom Central ­— a Facebook group providing rally information and coverage of Alberta's freedom movement — planned, organized and produced the creation of the video on Monday.
"It all started when someone suggested we plan to drop off all our WestJet gear together and it came together from there," explained the pilot, who directed Monday's shoot outside WestJet's Calgary headquarters.
"I want to change peoples' hearts and minds," said the pilot when asked what was behind his motivation for making the video.
"These are real people losing their jobs and livelihoods which is causing a tremendous amount of mental stress.
"These people firmly believe in this stand and no company or government has the right to take away our right to informed consent and bodily autonomy."
The pilot said he believes the policy is "driven by fear" and blames the mainstream media for driving that fear into people while the governments and politicians "exploit that fear."
When travel was heavily restricted earlier on in the pandemic, the pilot said they were all asked to take a pay cut from WestJet.
"Before the vaccines, they (WestJet) counted on us to do what it took to keep things moving. Now it's just comply or be terminated," said the pilot.
"It wasn't even mentioned in the video, but they (WestJet) have even terminated people who work from home in the call centers which feels more like a comply thing than it is a concern for our health."
The pilot confirmed he is a member of Free 2 Fly, a group that bills itself as a hub for both airline professionals and passengers to "build a movement" against the vaccine mandates, particularly those affecting air travel.
Free 2 Fly has nearly 38,000 members.
The unnamed pilot said he plans to continue to network and do what he can to contribute to "change in the airline industry."
The Western Standard reached out to WestJet for comment on the video but did not receive a reply.
Melanie Risdon is a reporter for the Western Standard
mrisdon@westernstandardonline.com
Shared from https://westernstandardonline.com/2021/12/exclusive-ex-pilot-behind-westjet-staff-video-fighting-for-co-workers-rights/